Being able to manage your sales team effectively is the key to increasing productivity and keeping your sales reps on top of their game. Your CRM will provide you with all the tools you need in order to make this happen, including extensive CRM customization options, campaign management, user management, and reporting.
In this article, we provide an overview of the primary CRM features and functionalities that you as a Sales Manager will typically be using in your daily work processes.
We also recommend that you read our Getting Started Guide for Sales Reps article in order to understand how your sales reps are using the CRM, as well as to learn more about lead and merchant account management.
Continue reading to learn how to:
Manage Leads
Review Calendar Events
View System As Another User
Use TurboApp
Use Tools and Reports
View Residuals
Use and Manage the Helpdesk
Manage Documents
Manage Your Workflows
Managing Leads
Use the options in the Leads drop-down menu to manage existing leads, or click on the New Lead option to create a new lead: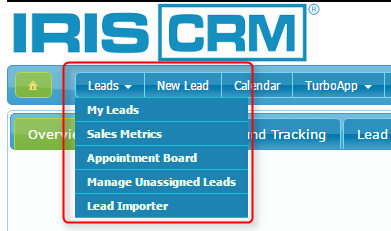 Here is a quick description of the available options with links to related articles:
View System As Another User
The View As feature provides you with a unique ability to view the CRM system in exactly the same way as it appears to another particular user or a user class: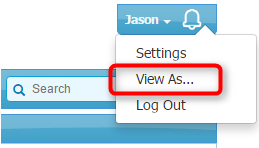 With this feature, sales managers can quickly diagnose issues with lead and merchant views for their agents. For more information on the View As feature please see our article on Using "View As" To Sign In As Another User.
Review Calendar Events
Manage your team's activity easily using the built-in Calendar:

For more information on using the CRM Calendar please see our article on Calendar Events.
Using TurboApp
Through TurboApp, ISOs board accounts to one or multiple integrated processors including First Data, Vantiv, iPayment, and others:
By using the Adobe Sign eSignature integration feature, the information on a new merchant is automatically imported to the lead record, resulting in an accurate and complete record.
Once imported, the boarding team can simply click the Board Merchant button on the lead record after which all of the merchant information transfers to TurboApp.
A merchant can then be submitted to any of the supported processors directly from the CRM site. The TurboApp removes the need to log into the different processor tools and re-key the information that has already been collected.
Once the application has been processed the ISO will be notified about underwriting status. Finally, the correct sales reps are automatically linked to the merchant for residual income calculation.
Using Tools and Reports
Your CRM provides several tools and reports that can be used out-of-the-box from the Tools menu: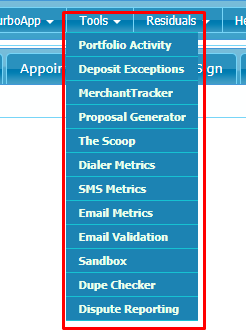 Here is a quick description of the available Tools options:
Viewing Residuals
The Residuals reports show you the summary and detailed information for each merchant, including the profitability information:

For more information on the profitability information please see our article on Merchant Residuals Profitability.
Using the Helpdesk
As part of the sales process, you will inevitably encounter different kinds of merchant issues and requests such as terminal issues, pricing questions, updating address/banking/legal information etc.
Your CRM provides you with its own Helpdesk in order to help manage such inquiries:

Using the Helpdesk, you can log new merchant issues yourself and stay informed on the status of each issue being worked on.
For more information on the Helpdesk please see our article on Creating and Updating Helpdesk Tickets.
Managing Documents
The CRM provides a central place to save and organize sales collateral, agreements and other types of documents to be shared with your team:

For more information on accessing documents in your CRM please see our article on Viewing the Documents Page.
Managing Workflows
Streamline your workflows by assigning the appropriate roles to users, managing email templates and eSignature forms, and importing lead data directly from your web forms.
Here are a few articles to get you started:

For any additional topics or information on advanced CRM features, feel free to explore the rest of the CRM Knowledge Base.
If you have a question or can't find what you're looking for, you can contact us, LiveChat us, or email us at support@iriscrm.com.