Being able to manage your sales team effectively is the key to increasing productivity and keeping your sales reps on top of their game. Your CRM provides you with all the tools you need in order to make this happen, including extensive CRM customization options, campaign management, user management, and reporting.
In this article, we provide an overview of the primary CRM features and functionalities that you as a Sales Manager will typically be using in your daily work processes.
We also recommend that you read our Getting Started Guide for Sales Reps article in order to understand how your sales reps are using the CRM, as well as to learn more about lead and merchant account management.
Continue reading to learn how to:
Manage Leads
Review Calendar Events
View System As Another User
Use the TurboApp
Manage Merchants
Manage Communication Tools
View Residuals
Use and Manage the Helpdesk
Manage Documents
Manage Your Workflows
Managing Leads
To manage your existing leads expand the My Leads option in the menu bar: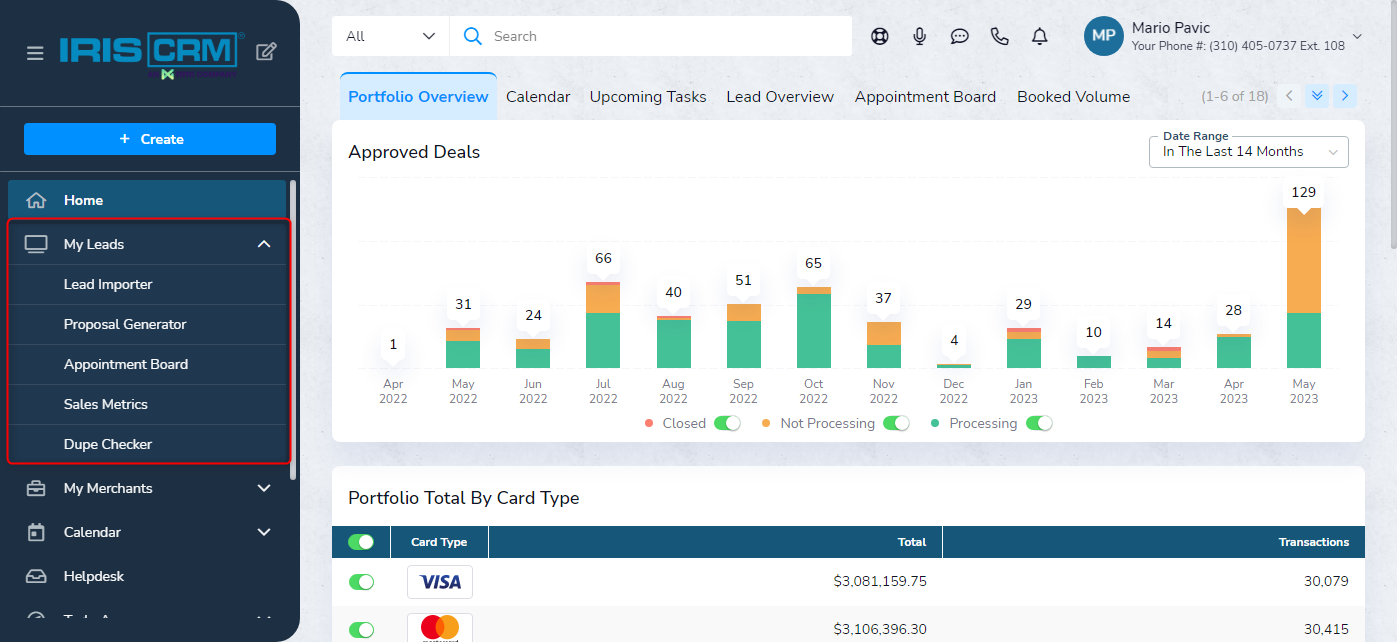 Here is a quick description of the available menu options with links to related topics:
My Leads - Assign leads to users or groups, change lead status states, and manage lead sources and campaigns. Mass actions can be performed to save you time when dealing with leads in bulk!
Lead Importer - Mass upload your lead database from a CSV file.
Proposal Generator - Create pricing comparisons and proposals to be sent to your merchants with only a few clicks.
Appointment Board - View a weekly report on your agents' appointment activity and stats.
Sales Metrics - View KPIs in real-time for how your sales team is progressing their leads. Track communications, appointments, new accounts, and more.
Dupe Checker - Find and delete any duplicate or outdated/incorrect leads.
View System As Another User
The View As feature provides you with a unique ability to view the CRM system in exactly the same way as it appears to another particular user or a user class: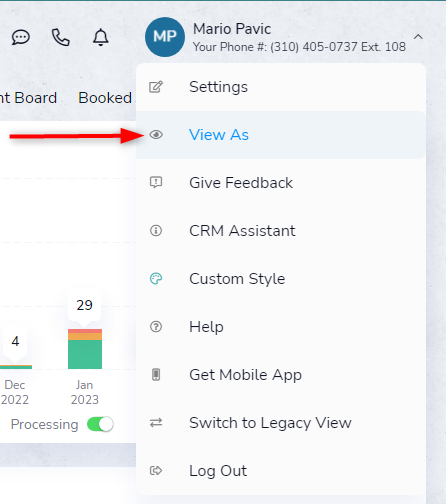 With this feature, sales managers can quickly diagnose issues with lead and merchant views for their agents.
For more information on the View As feature please see our article on Using "View As" To Sign In As Another User.
Review Calendar Events
Manage your team's activity easily using the built-in Calendar: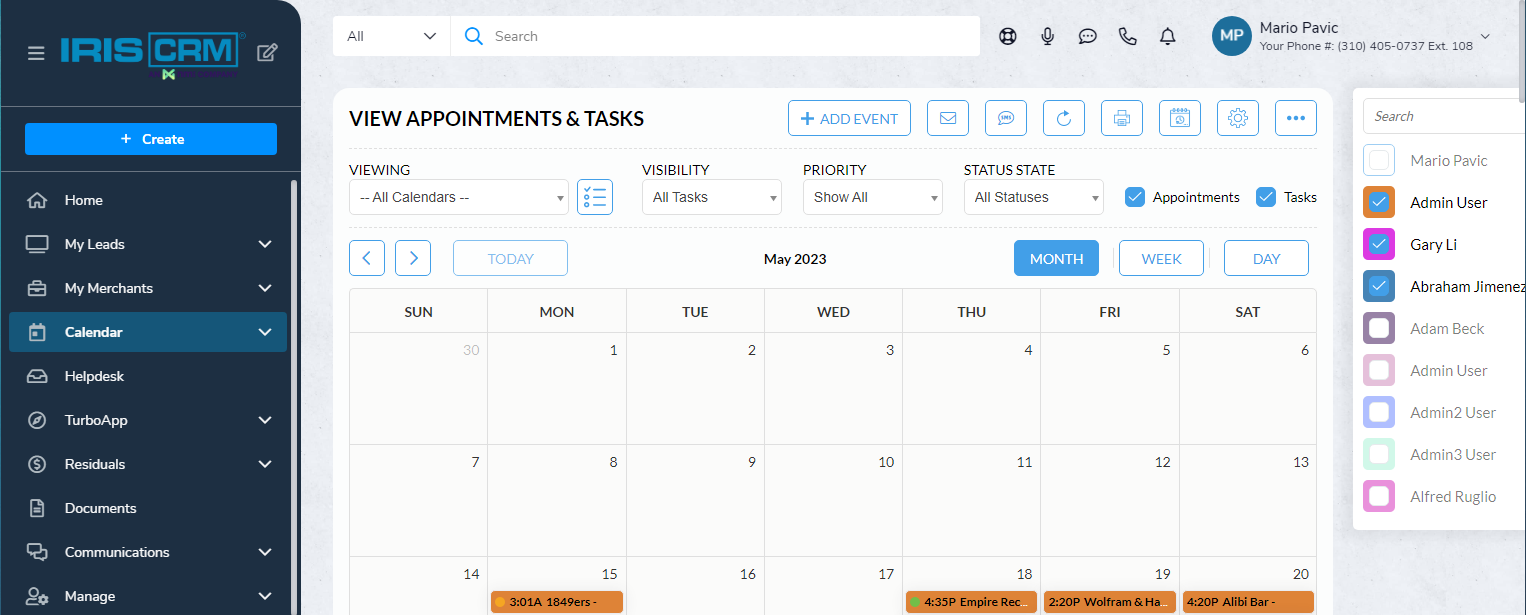 For more information on using the CRM Calendar please see our article on Calendar Events.
Using TurboApp
Through TurboApp, ISOs board accounts to integrated processors at lightning speed while eliminating costly data-entry errors. Integrations are available for First Data, Vantiv, iPayment, and other processors.
You can access the TurboApp options from the menu bar:
The boarding process typically begins by sending a PDF processing application to the merchant for e-signature, using the CRM's Adobe Sign integration.
After the merchant signs the document, the information entered in the e-signature document is automatically imported to the lead record, resulting in an accurate and complete record.
From there, the boarding team can simply click the Board Merchant button on the lead record after which all of the merchant information transfers to the TurboApp.
A merchant can then be submitted to any of the supported processors directly from the CRM site. The TurboApp removes the need to log into the different processor tools and re-key the information that has already been collected.
Once the application has been processed the ISO will be notified about underwriting status. Finally, the correct sales reps are automatically linked to the merchant for residual income calculation.
Merchant Management
Your CRM provides several tools to manage your merchants efficiently. These can be accessed from the My Merchant option in the menu bar: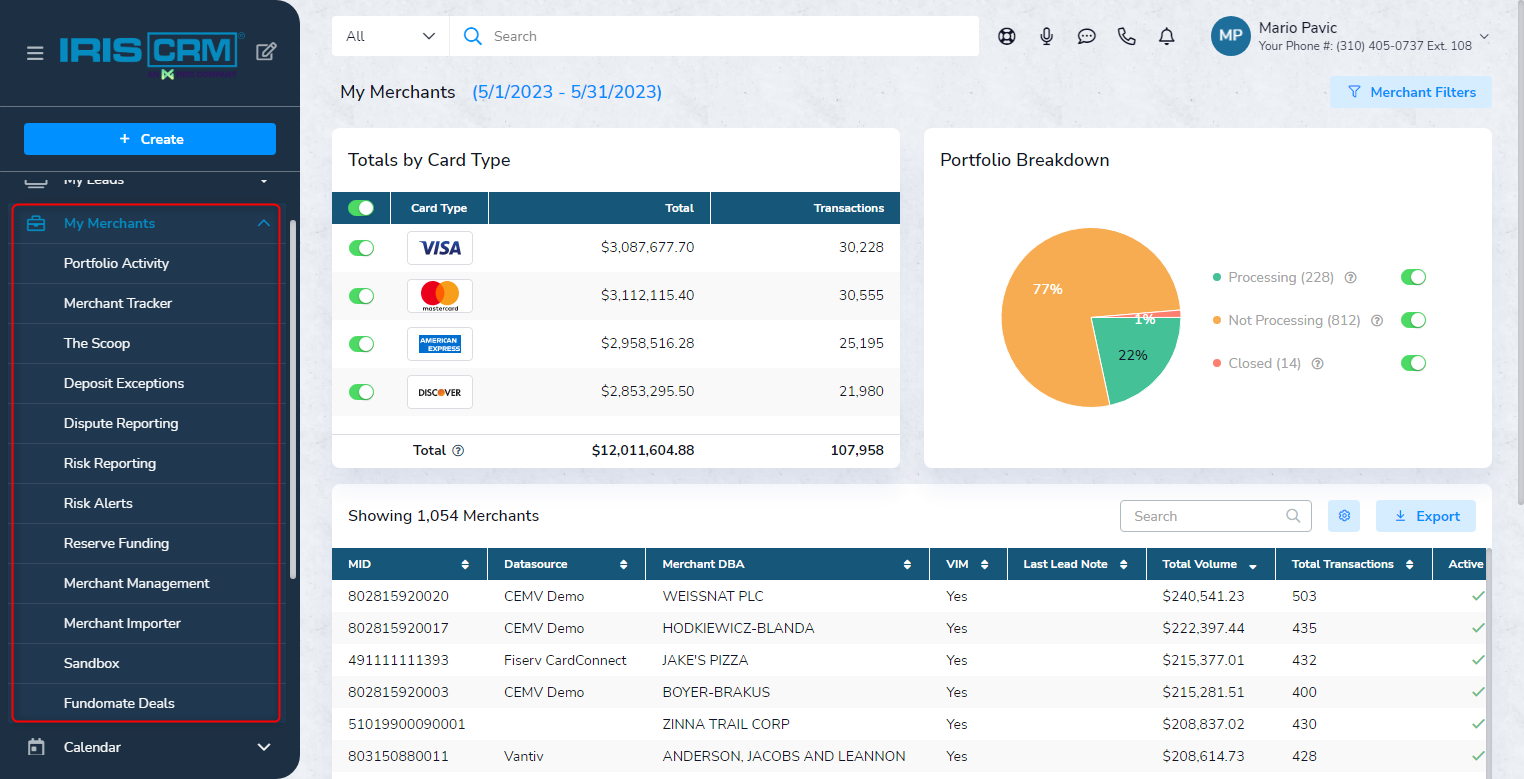 The tools include:
Portfolio Activity - Track your top performing accounts along with a breakdown by card type volume and a graph showing new and closed accounts per month.
Merchant Tracker - Monitor your merchant activity and get notified if a merchant has not processed any transactions for a certain number of days
The Scoop - Get the scoop on your business by viewing your portfolio, top agents' performances, and your entire portfolio's PCI status.
Deposit Exceptions - Keep track of important events that occur on merchant accounts which may warrant a contact to the merchant or further attention.
Risk Reporting - Identify risky accounts in your portfolio by monitoring several key risk indicators.
Risk Alerts - Set up automated alerts to notify you when pre-set thresholds related to fraud monitoring, dispute monitoring and MCC concentration are exceeded by specific merchants.
Reserve Funding - View reports on reserve funding requests.
Merchant Management - View and manage your merchant accounts.
Communications Management
Your CRM comes with numerous features that enable you to streamline your email and SMS messaging, and it also includes a built-in phone dialer system.
You can also track performance using several advanced reporting tools such as the Dialer Metrics, Email Metrics, and SMS Metrics.
The communication tools can be accessed from the Communications option in the menu bar:
Here is a short description of the available communication tools:
Viewing Residuals
The Residuals reports show you the summary and detailed information for each merchant, including the profitability information.
You can access the residuals report from the Residuals section in the menu bar: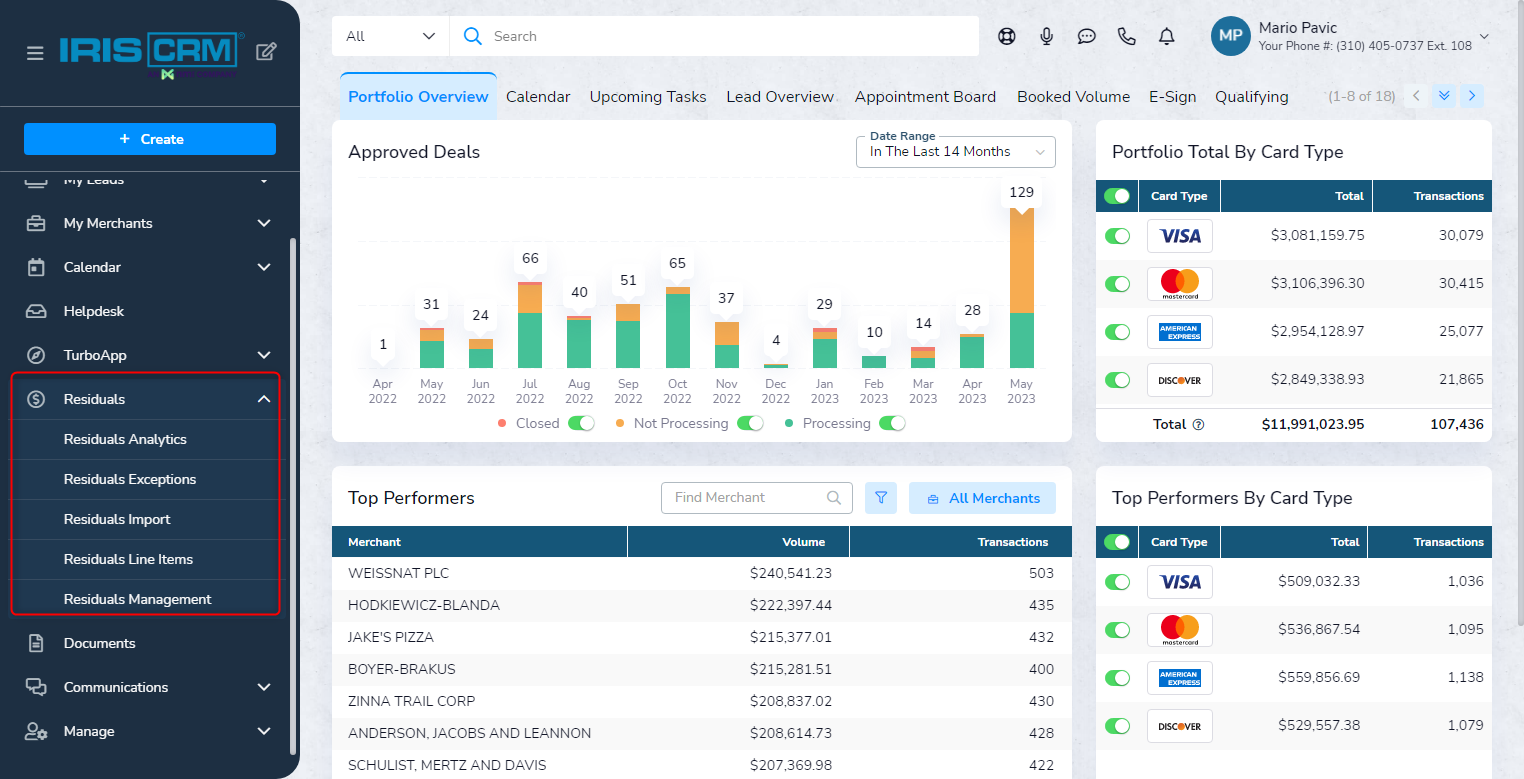 For more information on the profitability information please see our article on Merchant Residuals Profitability.
Using the Helpdesk
As part of the sales process, you will inevitably encounter different kinds of merchant issues and requests such as terminal issues, pricing questions, updating address/banking/legal information etc.
Your CRM provides you with its own Helpdesk in order to help manage such inquiries: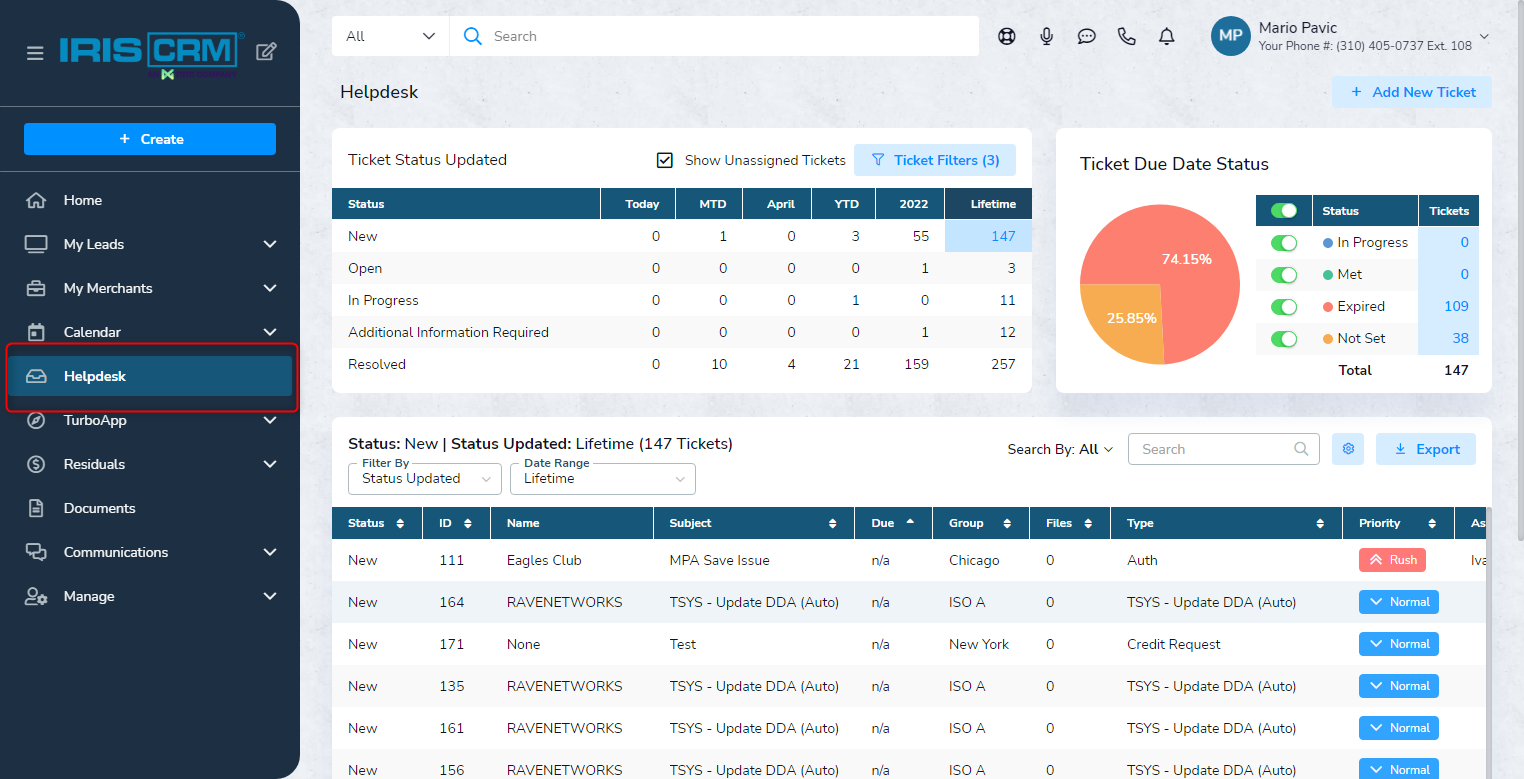 Using the Helpdesk, you can log new merchant issues yourself and stay informed on the status of each issue being worked on.
For more information on the Helpdesk please see our article on Creating and Updating Helpdesk Tickets.
Managing Documents
The CRM provides a central place to save and organize sales collateral, agreements and other types of documents to be shared with your team: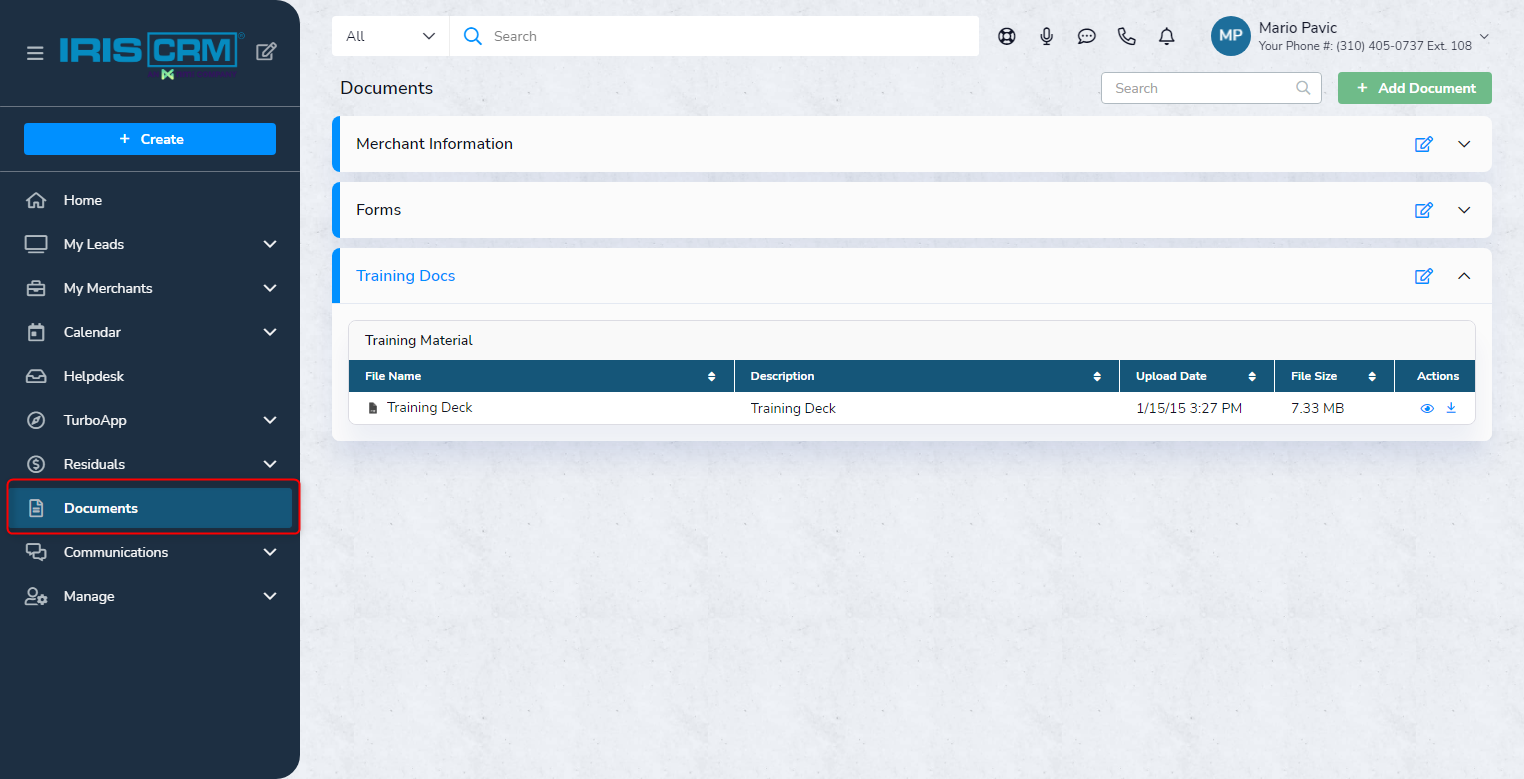 For more information on accessing documents in your CRM please see our article on Viewing the Documents Page.
Managing Workflows
Streamline your workflows by assigning the appropriate roles to users, managing email templates and eSignature forms, and importing lead data directly from your web forms.
Here are a few articles to get you started:

For any additional topics or information on advanced CRM features, feel free to explore the rest of the CRM Knowledge Base.
If you have a question or can't find what you're looking for, you can contact us, LiveChat us, or email us at support@iriscrm.com.