The Document Customization page allows Advanced and Admin-type users (with Manage Documents permission) to create and manage document categories and labels, upload documents into categories and set category-level and document-level access permissions.
To see how the users access the documents via the Documents page, please see our article on Viewing The Documents Page.
Adding a New Category
To add a new document category, open the Document Customization page via the Manage > Administration > Documents > Document Management menu, and click Add New Document Category: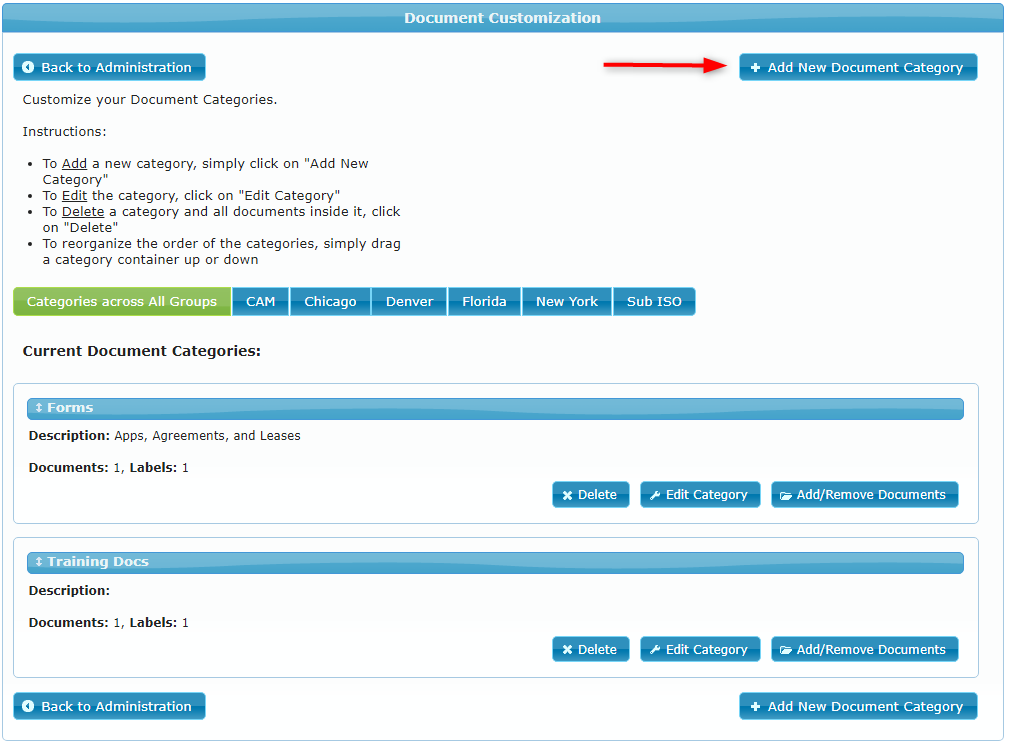 A popup window will appear where you can enter the name and description of your new category, assign user-class permissions, and select the group(s) who will have access to the category: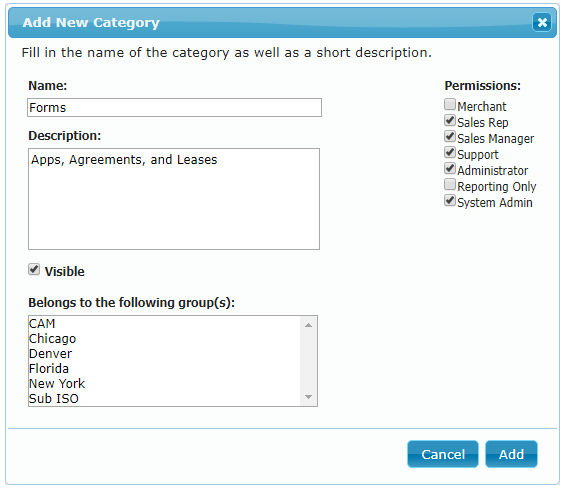 Note: To select multiple groups for your category, press and hold the Ctrl key on your keyboard and click on each group you wish to select.
After you have configured your category settings, click Add and the new category will be created.
Use the buttons provided in the category widget to delete the category if needed, to edit the category's settings, or to add/remove documents from the category.

To change the order of the document categories as they will appear on the Documents page, simply drag & drop the category widgets into an appropriate position.
To view the categories belonging only to a specific user group, click on the group's button the Document Customization page:

Managing Documents
To add or remove documents from a specific category (and to manage the category labels), click on the Add/Remove Documents button for that category:

The Shared Documents page will open up, as shown in this screenshot:

To add a new label to your category click on the Add Label button, enter the name of the label, and click Save: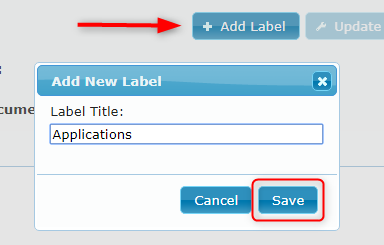 To add a new document to your category, click Add New Document, enter/select the document's settings, select the file to be uploaded, and click Upload File: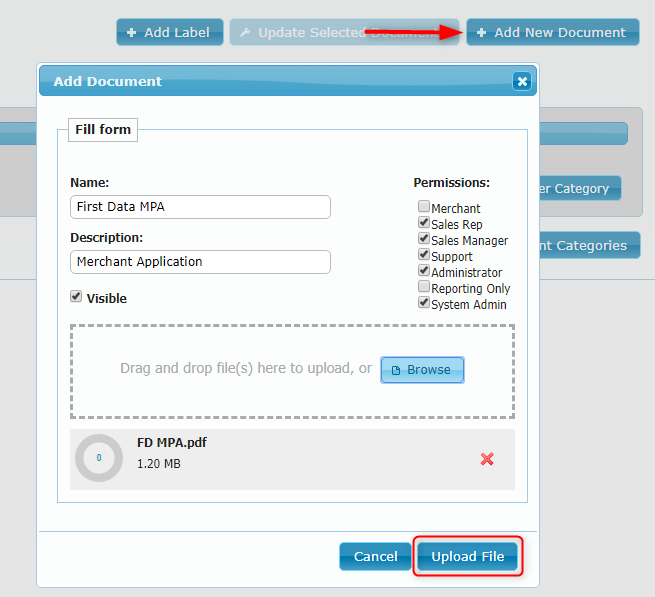 Note: The document's permissions are inherited from the category permissions by default. If needed you may further remove/unselect any of user-classes from the displayed document permissions.
To change the order of the labels and documents within your current category, simply drag & drop the labels or documents into an appropriate position: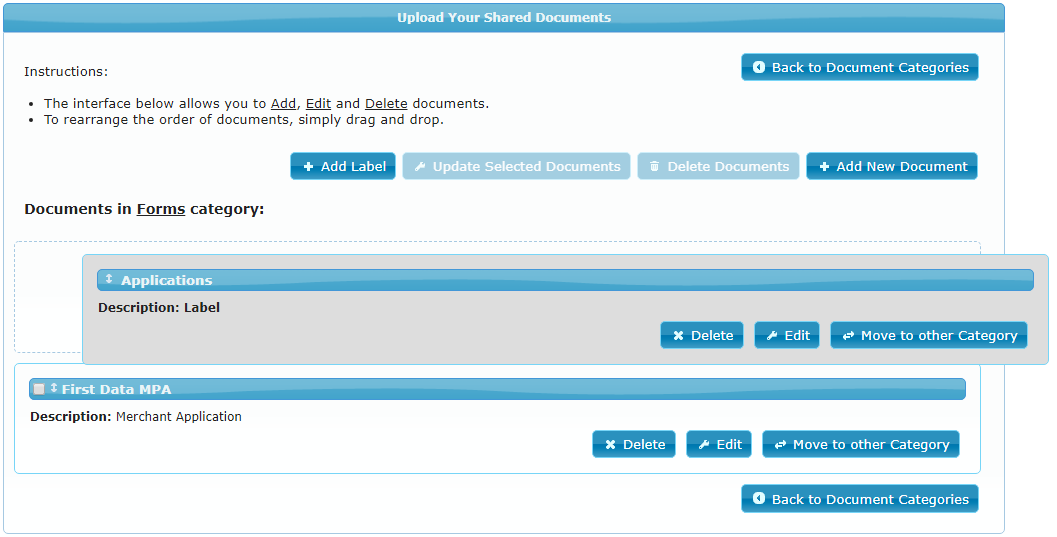 Repeat the above steps to add as many labels and documents as needed. You may always edit the settings of each document and label, and delete them once they're no longer needed.
To mass-update the user class permissions for documents within a category, click the checkbox next to each document and then click Update Selected Documents: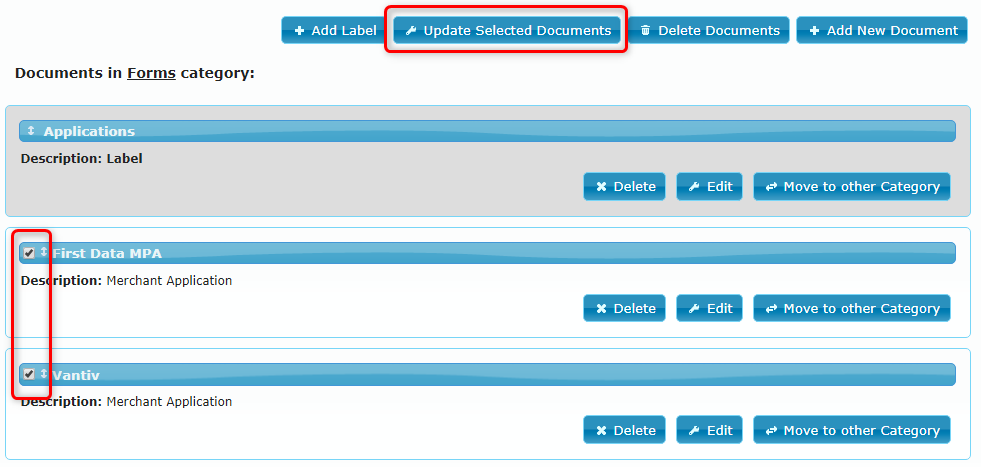 A popup window will appear where you can select the new permission for each user class, as well as change the document visibility: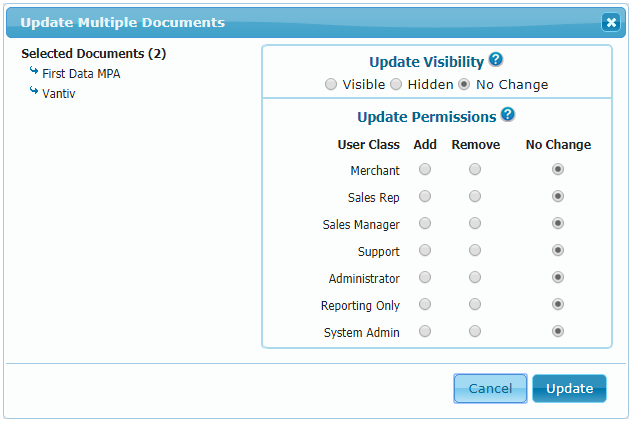 After you have selected the desired options click Update and the selected documents will be updated.
Multiple document deletion is performed in a similar way. Simply select the documents to be deleted and click Delete Documents: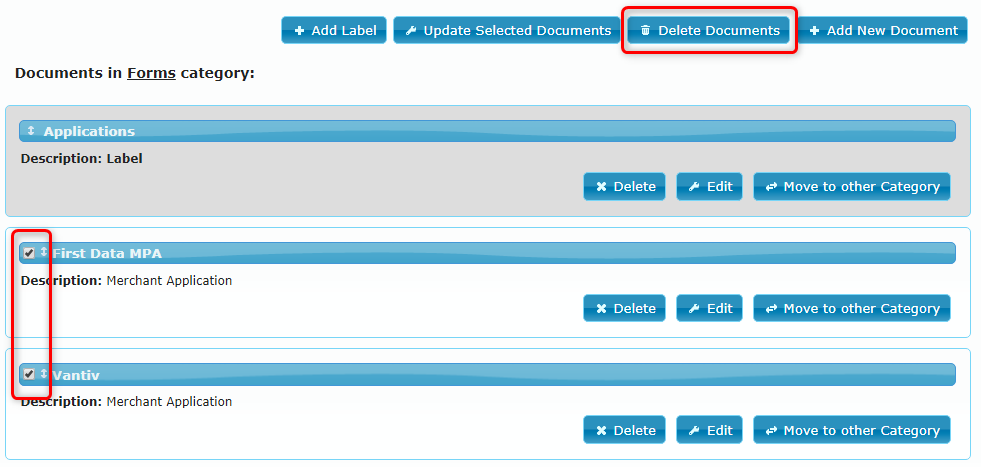 In the confirmation popup which appears click Delete and the documents will be deleted: