We understand that using your CRM to easily manage your leads and merchants is very important to you as a Sales Rep. For that reason we designed our lead and merchant management features to be super fast and extremely simple to use.
Additionally, your CRM provides several different customization options which allow you to fine-tune the user interface to fit your specific business needs.
In this article, we cover the typical tasks you perform as a Sales Rep and show you how they can be done more easily with the CRM.
If you have a question or can't find what you're looking for, chat with us using the support chat in the CRM (in the lower right corner) or email us at support@iriscrm.com.
Continue reading to learn how to:
Create a New Lead
Manage Your Current Leads
Link Leads to Merchant Accounts
Generate Proposals
Access Your Sales Collateral And Other Documents
Search the CRM Using the Global Search
Create a New Lead
To create a new lead, click on the New Lead button located on the navigation bar:

A New Lead form will open where you can enter vital lead data. After entering the required information, use the options on the right side of the form to select a Status State, Campaign, Lead Source, and the Group (if allowed by User Class permissions):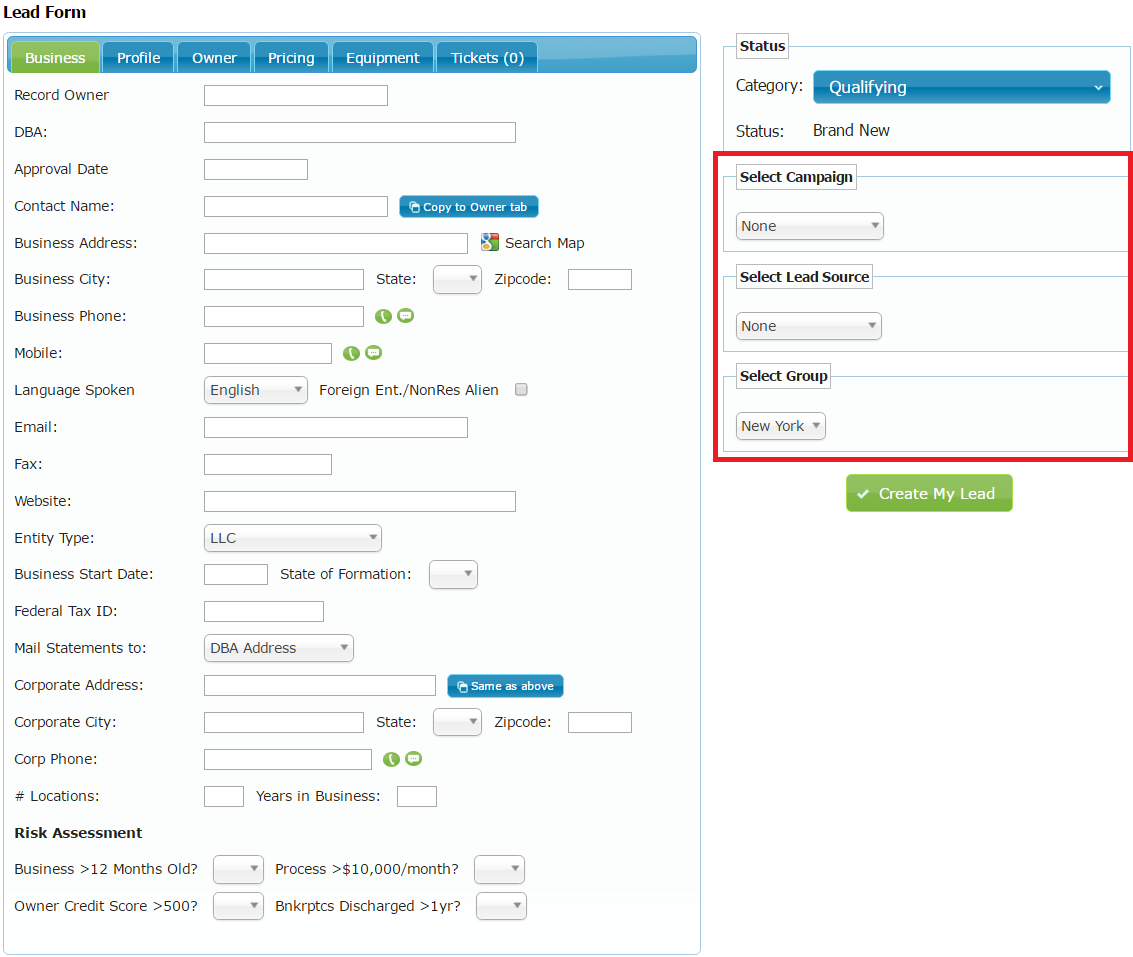 Note that the tabs, fields, and Status States displayed in the image above may appear different from the ones that you'll find on your CRM site. That is because site Administrators can modify these features based on the company's specific needs.
After entering all the desired data on the lead form, click the Create My Lead button to save the lead and all the entered data:

Once the lead has been created, you can add notes and attachments, set tasks and appointments, send quick emails using templates, and send E-Signature applications. For more information on these actions, jump to the following articles:
For an in-depth discussion on working your leads through the sales process please see our article on Updating and Progressing Leads.
Managing Your Leads
Depending on how far your lead has progressed in the sales process, the lead may be assigned to a Status State such as New Lead, Qualified Lead, Approval Pending etc. Your CRM enables you to create your own custom status states aligned with your established sales workflow.
To view all the leads in the system that you have access to, including the status states they are currently in, go to the My Leads By Status State page via Leads > My Leads: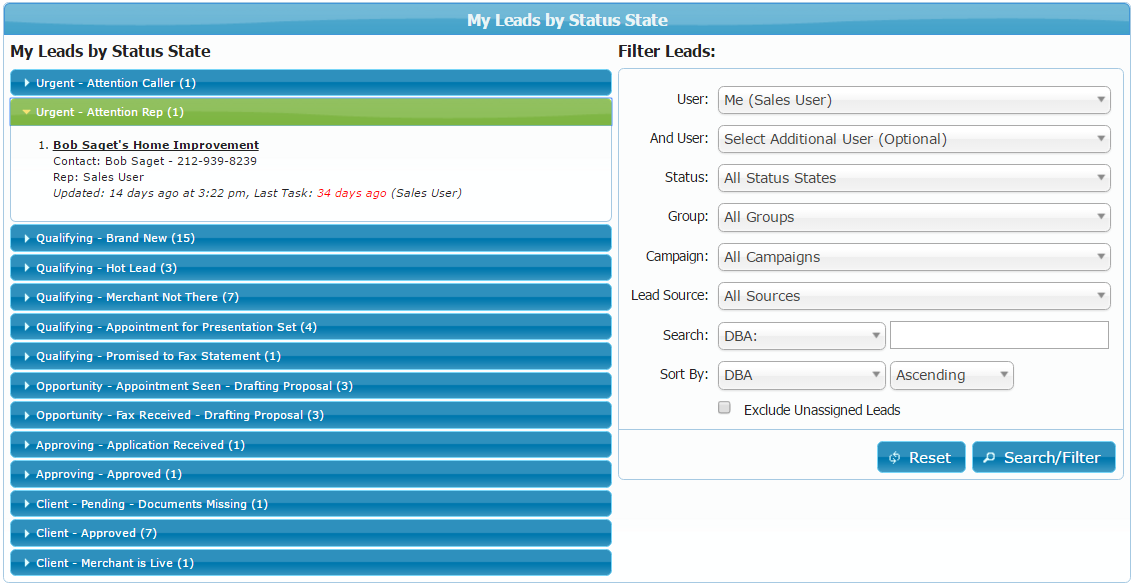 The left side of the page contains a list of accordion folders - one for each Status State. You'll see a number in parenthesis next to the folder title — this is the number of leads currently in that particular Status State. Click on a folder to expand it and view the list of leads.

On the right side of the page, you can filter options using a single option (Campaign) or pinpoint your search by using multiple options (Group, Campaign, User).
After clicking the Search/Filter button, the left side of the page will refresh accordingly - displaying only the accordion folders containing the results of your filtered search: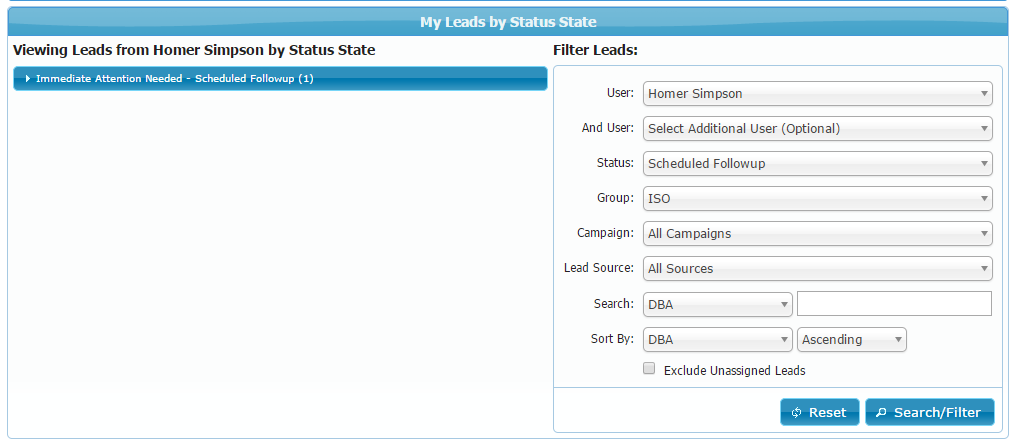 Linking a Lead to a Merchant Account
Once a lead is boarded to a processor, it can be assigned a designated Merchant is Live status state and linked to a merchant account in the CRM. After a lead is linked to a merchant account, it can be accessed directly from the lead form by clicking on the merchant link in the Associated Merchant & Lead Records widget:

Linking leads to their Merchant accounts is highly beneficial as it allows you to access all of the lead info/tabs directly from the Merchant Details page, on the Profile tab: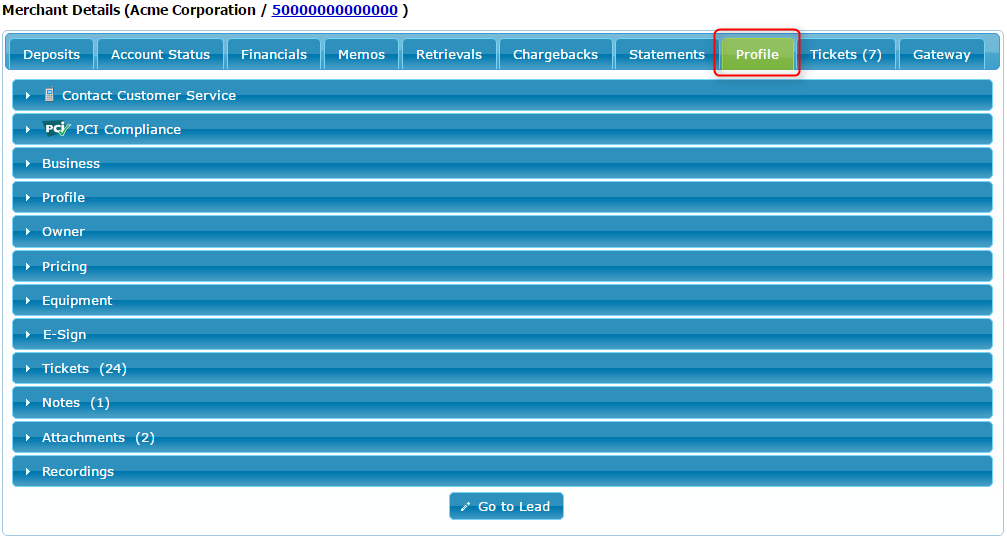 More information on linking leads to merchant accounts can be found in the Linking Leads To Merchant Accounts article.
Generating Proposals
Your CRM has a built-in Proposal Generator that makes the creation of accurate, flexible and detailed proposals extremely simple. Impress your prospects with a detailed analysis of their business including the savings they can achieve by signing up with your ISO: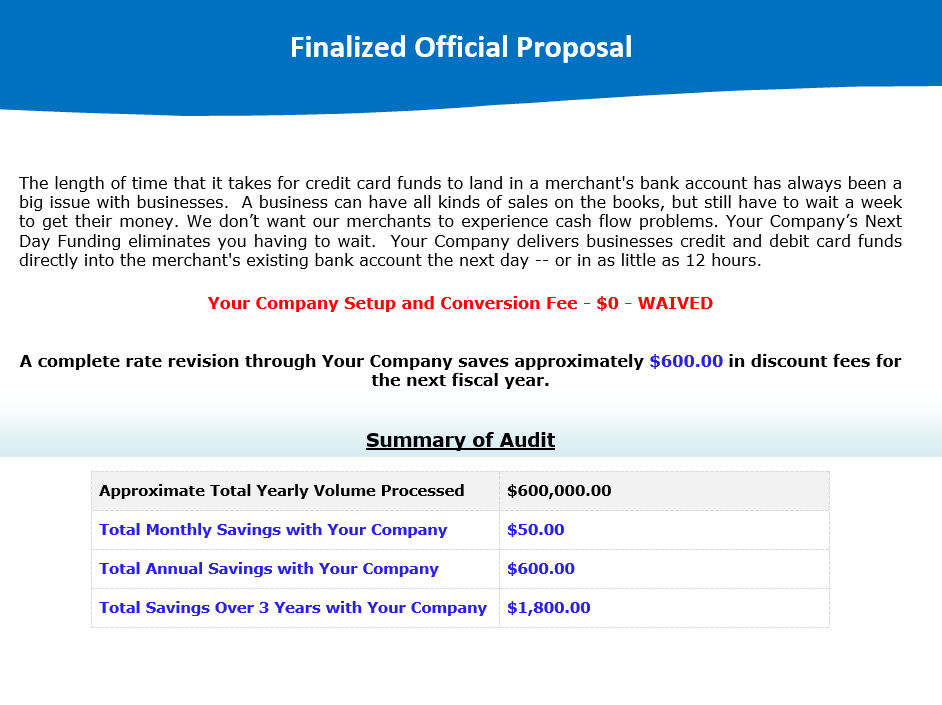 To learn more about the Proposal Generator please see our article on Creating Merchant Pricing Comparisons In The Proposal Generator.

Documents
While you're working on your leads, you will likely handle hundreds of different types of documents such as processing applications, sales collateral, lease agreements etc.
Your CRM provides a central place to store all of those documents allowing you to access them quickly and without having to dig through all the files on your local workstation: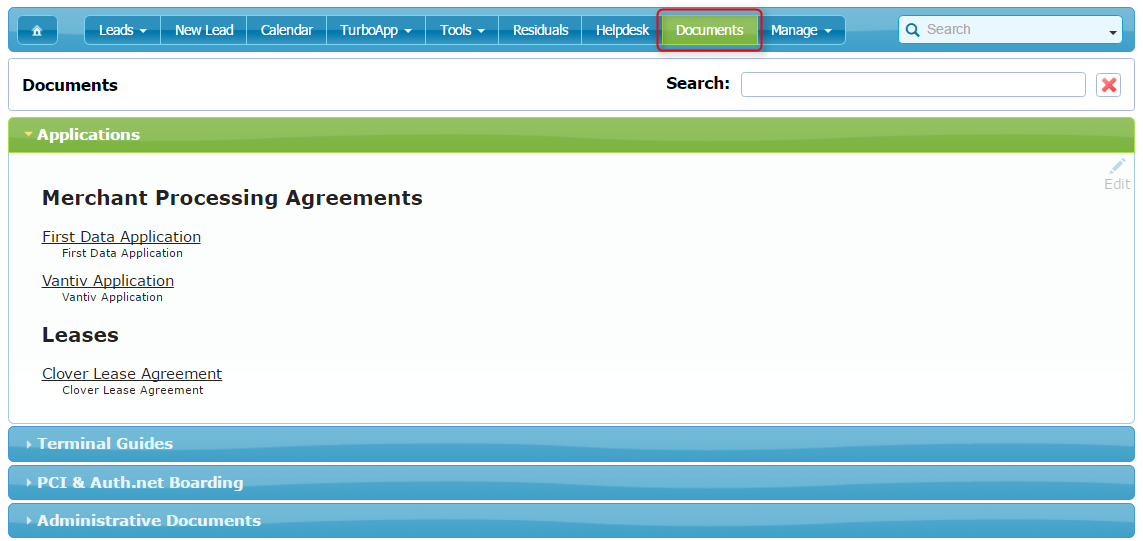 For more information on accessing documents in your CRM please see our article on Viewing the Documents Page.
Global Search
Search is one of the most important functions in any CRM solution, and that is why your CRM provides a near-instant search capability. Although you will come across different search and filter functions in different places in the CRM, the fastest way to get to an item you're looking for is to use the Global Search.
The Global Search box is located in the top navigation bar in the CRM, so you can always get to it quickly regardless of what page you're currently on:

You can use the Global Search box to find any information on your site which is searchable.
Once you've typed at least three letters in the search box, it will display the top matching results in a drop-down pick list. The top results may be grouped in one of 4 categories, including Leads, Accounts, Helpdesk Tickets and Documents: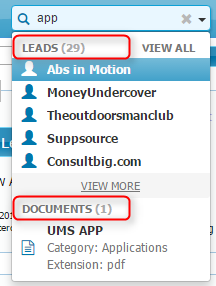 For more information on Global Search please see our Global Search Field article.