Your CRM will ensure that your Operations and Support teams are more productive than ever. When Operations/Support users first log in, the home page provides much of the information that these users will be tracking on a daily basis.
The Lead Overview tab on the home page displays the age and status of leads that support/operations users have access to, so they can quickly access these leads and initiate the next steps: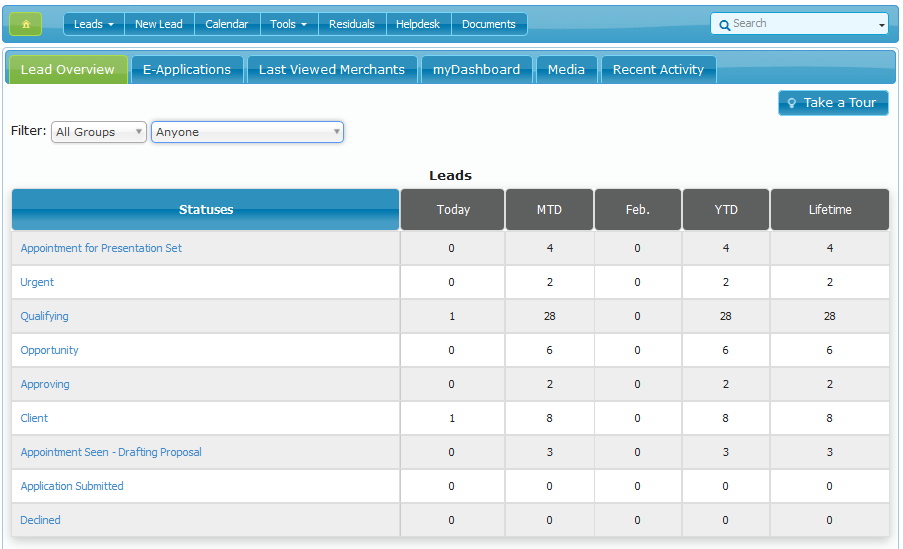 Update Your Settings
Click on your name at the top of the page and select Settings. Confirm that your contact info and notifications preferences are correct.
More info: User Settings
Review the Home Page
Your home page can have different reports on each tab. Depending on your role, certain reports may be enabled for you. These include:
Lead Statuses (can be configured for select statuses, and replicated for different user's needs)
Lead Search
Tasks & Appointments
E-Signature
Merchant Portfolio
Files & Embedded Media
More info: Home Page Lead Reporting
Boarding
If your CRM is configured for you to board accounts directly to integrated processors, the lead page will display a Board Merchant button:

Clicking that button imports data from the lead into TurboApp, which has certain fields to populate. You may also access TurboApp via the menu bar:

More Info: Submitting Applications through TurboApp
Support
The Helpdesk page is where most of your merchant support activity will take place. From this page you can add, view, and update tickets: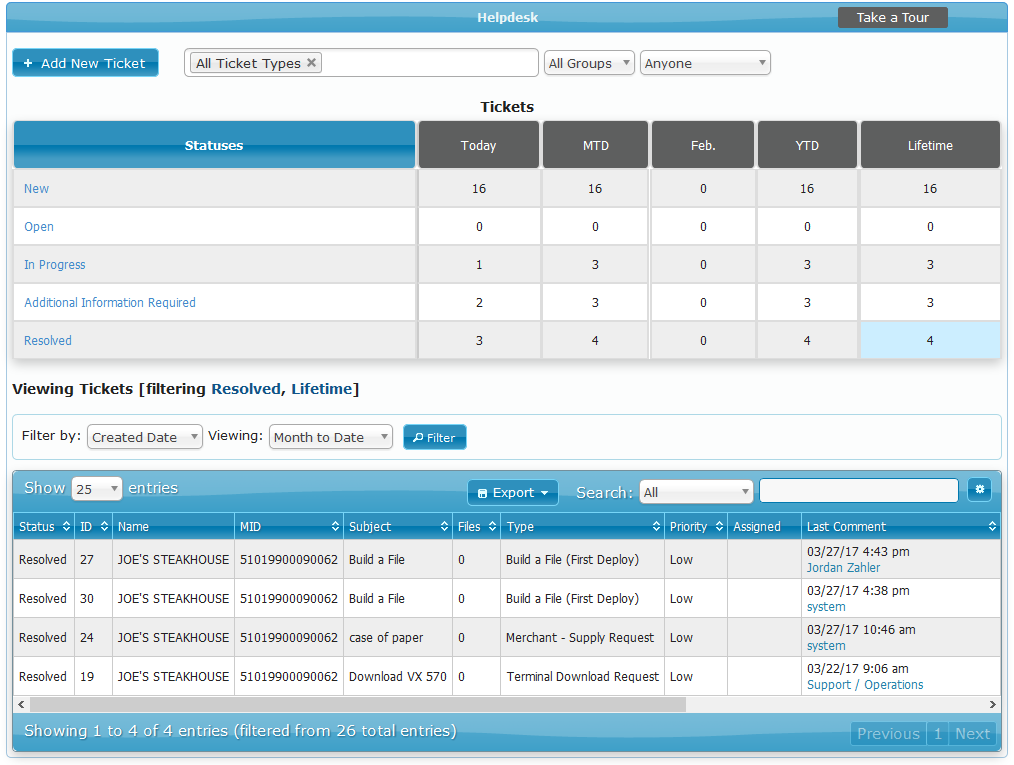 More Info: Adding and Updating Helpdesk Tickets
Manage User Accounts
To add and modify users, go to Manage > User Accounts.
More info: Managing User Accounts
Other Tasks
The other most common tasks that in-house Operations/Support users may be performing are:
Importing Leads - The lead importer tool allows users to upload leads to the system via a CSV file.
Managing Pricing Templates - Pricing templates allow users to pre-fill multiple fields on a lead automatically with standard data.