Your CRM Dialer provides you with the ability to:
Buy and use new phone numbers to make and receive calls in the CRM
Port your existing phone numbers into the CRM
Use local presence to give the appearance that you are calling from the same area code as your potential customer (in order to increase your call connection rates)
How to Buy New Phone Numbers
Here are the instructions for buying new phone numbers in the CRM:
1. Navigate to Manage > Administration > Dialer > Local Presence and open the Local Presence tab:

2. The tab shows only the phone numbers for the areas that you don't own any phone numbers in.
To see a list of ALL area codes uncheck the Show Missing Area Codes checkbox and the list will automatically refresh to show all the phone numbers that you can purchase:

3. If you are looking to purchase a phone number in a specific city, state, or area code, use the Search box to locate such numbers faster:

4. To find an individual phone number, click the refresh button to the right of the Available Phone Number field. The field will populate with a number that is available for purchase:

5. To purchase the number, click on the green shopping cart icon in the Actions column and confirm your purchase: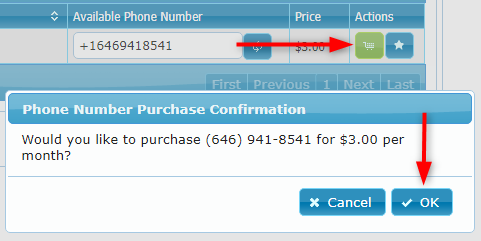 6. To display multiple numbers all at once, click the Show All Available Numbers button:

Note: If no numbers are available for an area code then the phone number field shows a "No Numbers Available" message.
7. After all of the available numbers are shown, you can purchase all of them by clicking the Buy All Available Numbers button, and clicking OK to confirm your purchase:

Porting Your Current Phone Numbers into the CRM
To learn how to port existing phone numbers please see our article on Porting Phone Numbers.
Using Local Presence
To learn more about local presence please see our article on Local Presence.