When all members of your staff are occupied, incoming calls go to the Waiting Queue.
Callers waiting in the queue will hear a recorded message until the next available agent is free to take their call.
How the Waiting Call Queue Works
Here are the rules which are used by the system for routing inbound calls either to the Waiting Queue or to the Voicemail.
Calls will only go to the Waiting Queue if there are one or more Dialer-enabled Group Members logged in. If there are no Group members logged in, then the call will go to the Group Voicemail.
If all Group members are on other calls, away from their desk, or too busy with other duties to accept an incoming call, the call will go to the Waiting Queue.
Calls that are declined by any logged-in Group member, will go to the Group voicemail instead of to Waiting Queue.
The caller can press 0 while in the queue to leave a voicemail.
Setting Up The Waiting Queue
To configure your Waiting Queue, navigate to Manage > Administration > Dialer > Dialer User Settings, open the Manage Groups tab, and click the wrench icon on the desired group:

In the popup window that appears, select an audio file from your PC (WAV or MP3 format) which will be played to the caller while they are waiting in the queue, and save your changes: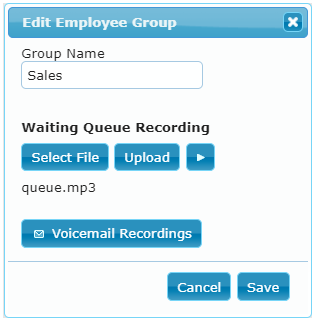 Note: The uploaded recording plays in a continuous loop until the call is answered by an agent.
Once the recording is saved you can always listen to it, download, or deleted from the group popup: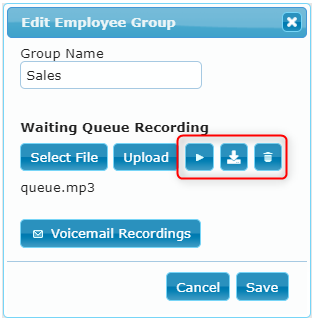 Answering a Call from the Inbound Caller Queue
When a call goes to the Waiting Queue, the Group members will see a number indicator next to the Waiting Queue menu option:

The indicator appears for all Group members who are currently logged in and have the Dialer open.
If additional calls are added to the Queue, the indicator automatically updates the number of waiting callers. Calls are enqueued chronologically, with the callers that have been waiting for the longest amount of time shown at the top of the queue.
You have the option to answer these calls in the order that they came in or you can also select other calls in the queue.
To view the waiting callers click on the Waiting Queue menu option. Here is an example of a live call in the waiting queue: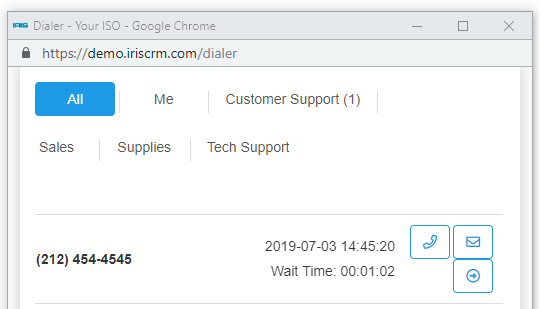 If the incoming call is from a lead, then the lead's name will appear as a clickable link that opens the lead form (otherwise only the phone number is shown).
To answer the call, click the phone icon. You will now be connected immediately and the call will be removed from the Queue.