The Email Integration feature enables you to sync your Gmail or Outlook account to your CRM and exchange emails with your leads without having to log into the CRM.

For the Google or Outlook Calendar integration click here.
Emails sent from a lead are tracked in the lead Notes. When the lead replies to your email, their response is also automatically added to the lead record as a new note (including all email attachments and inline images):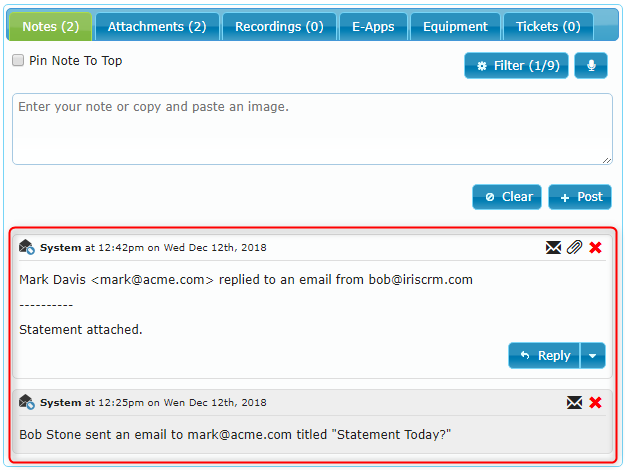 You can view the HTML content of emails by clicking on the envelope icon (in the top right corner of the note) and you can reply to the email (or forward) using the Reply button.
By adding a Gmail or an Outlook account to your CRM, you can exchange emails with your leads using those accounts, and your email conversations will be automatically bound to the lead records as lead notes.
More info: Email Binding Configuration
You may also designate a separate email account to send email notifications to whenever a new Note is posted manually in the CRM. When you reply to such a notification from your email, your comments will be automatically added to the Lead as a new user note.
Additionally, your CRM is able to accept direct emails to internal email addresses (e.g. support@isoabc.com) for Helpdesk Ticket creation and/or ticket comments. Replies sent to these emails will have the responses posted directly to the corresponding ticket.
Creating new tickets automatically is an important feature for organizations that would like to enable their clients to submit tickets by email without logging into the CRM.
Connecting Your Account
To connect a Gmail or an Outlook account to your CRM user account, click on your username in the top-right corner and click Settings: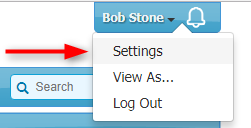 On the Settings page, click Manage Emails: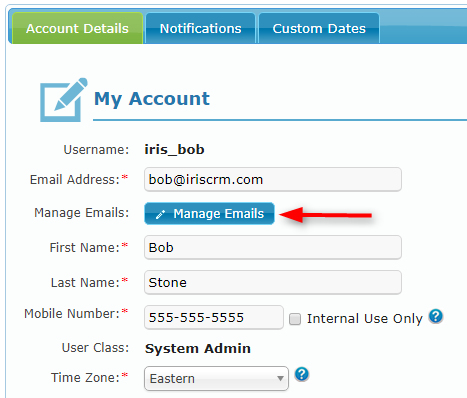 A popup will now appear which you can use for adding multiple email accounts to your CRM account.
Depending on which type of account you're using, click on the Gmail or the Outlook button: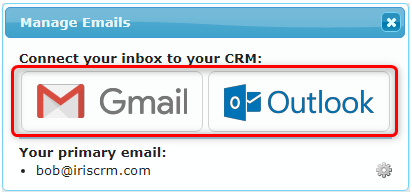 You will now be re-directed to the Gmail or Outlook authentication page where you can select the email account that you wish to sync.
After you authenticate your account, the sync will be established and you will find your new email account in the Additional Emails list: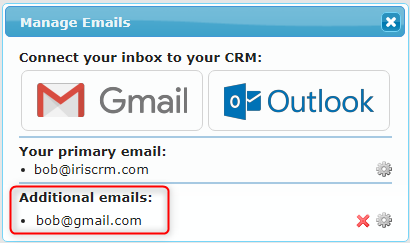 The red icon shown next to the new email address allows you to remove the account from your settings, while the Gear icon allows you to edit your sender name or to set the new email as your primary CRM email account.
If you are an administrator and need to sync an email account for a user, you can do so using the Manage > User Accounts menu.
Sending And Receiving Emails
Once you've connected your email account to the CRM, you're ready to start sending emails.
Select the synced email in the Sender Email drop-down (in case you haven't set it up as the primary account) and send your email normally: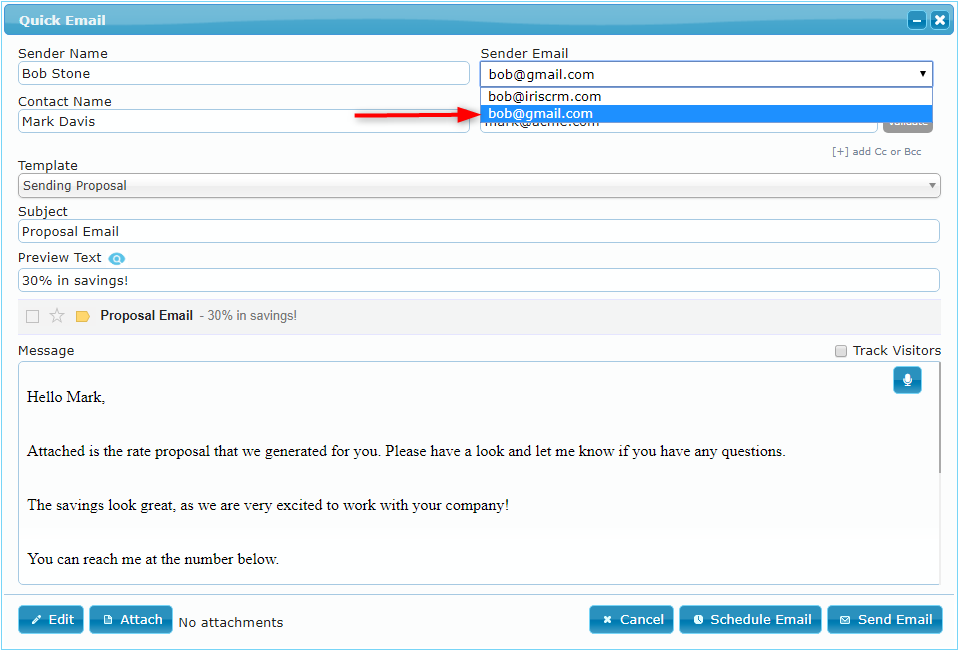 If the "Alert on Open" option was enabled in your email template, then after the recipient opens the email you will receive a notification which looks like this: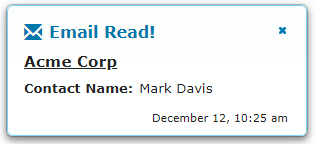 When your lead replies to your email, another notification message will be shown. You can then reply to that email right from the notification popup using the Reply button: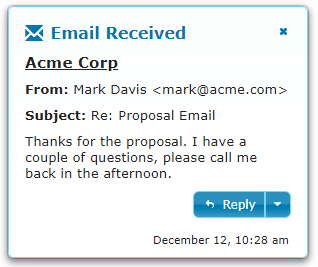 You can also send new emails or responses right from your Gmail or Outlook account:
Emails sent from a synced account will be automatically bound to the lead record that has the recipient's email address set in an email field (if Email Binding was enabled for that field).

Important Notes:

If multiple leads share an email address, a new email sent from your Gmail or Outlook will be tied to the lead that has the most recent update to it (lead field values, status, note, or task). The same applies to new email (non-replies) that are sent to you.

If an email message that you sent is tied to a lead and is responded to, the reply will be tied to the same lead, even if another lead has been updated more recently.
Here is an example of a few lead notes that were created automatically based on different email actions: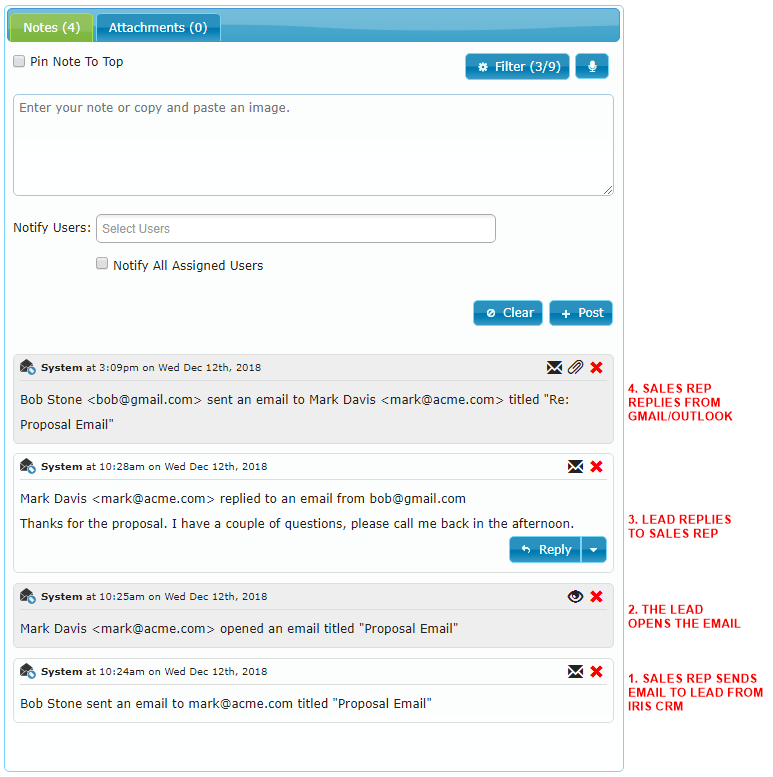 Group Notifications Using Synced Email
The CRM Group Settings enable you to incorporate email responses to Group notifications. For more information on Group Settings please see our Manage Groups article.
To link an email account to your group for Leads, go to Manage > Administration > Users & Groups > Manage Groups and open the group that you wish to edit.
In the Group Settings go to the Link Leads to Email API setting, click on the Gmail or Outlook button, select the Group(s) to which the new setting will be applied, and authenticate your account:

Once the authentication is completed the setting will show the new email address (which you can always unlink if needed):

A similar procedure is followed when you're linking an email account to your Helpdesk.
There is just one additional step though, and that is to select the default Helpdesk Ticket Type: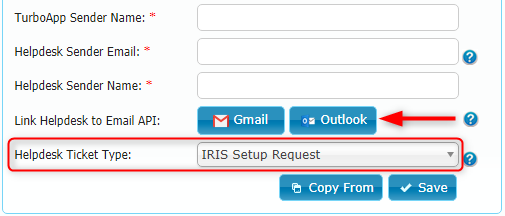 The ticket type that you select will be automatically applied to all new tickets which are created automatically when an email is sent to the specified Helpdesk email address (and the email is not related to an existing ticket).
We recommend making a ticket type called Inbound Email Received and setting an SLA of 1 day.
Updating Leads and Helpdesk Tickets via Synced Email
Once your Group Settings have been configured to send Lead and Helpdesk Ticket notifications via the synced email account, you will receive email notifications for different types of Lead and Helpdesk Ticket events.
When you receive such a notification, you can respond to it directly from your email, and your comments will be automatically appended to the Lead or the Helpdesk Ticket that the notification came from.