In addition to uploading your residuals reports into the CRM, you may also make further residuals adjustments by adding income or expense line items.
To manage your residuals line items go to Manage > Administration > Residuals > Line Items.
The Manage Line Items page will open showing a list of your line items as well as the recurring line items: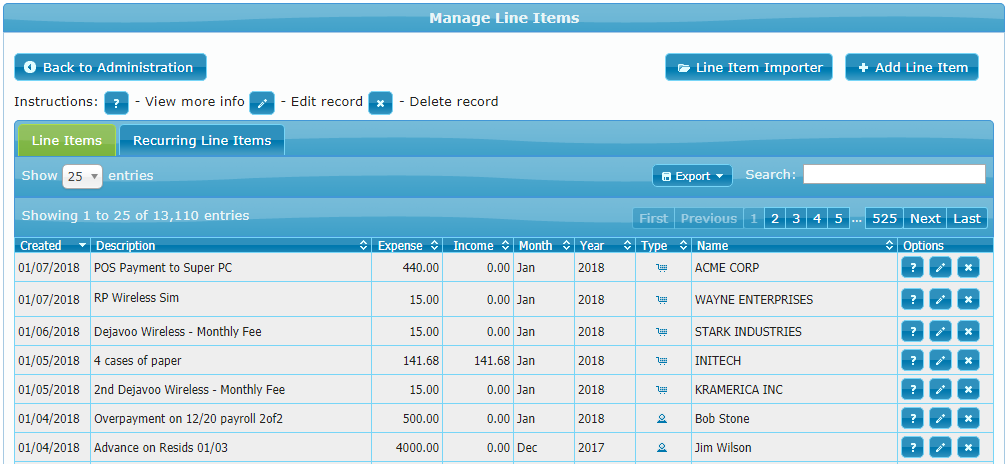 Adding a Line Item
To add a new item click Add Line Item, enter/select the item's information, and click Add: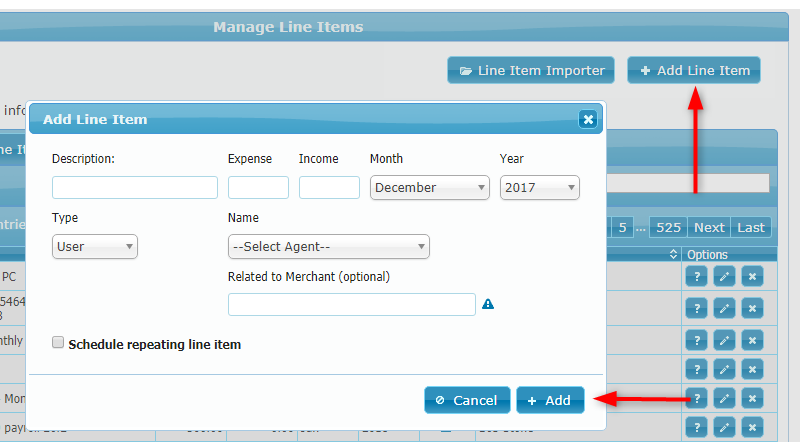 To view more information on a saved line item, hover your mouse over the question mark button in the Options section.
To edit a line item click on the Pencil icon button.
To delete an item click on the "X" button:

Adding a Recurring Line Item
To add a recurring line item, create a new line item and check the Schedule repeating line item checkbox. After that, select the start date and the line item's frequency, and optionally enter the maximum number of payments (or check the "Unlimited" checkbox).
When finished click Add, and the new recurring line item will be saved: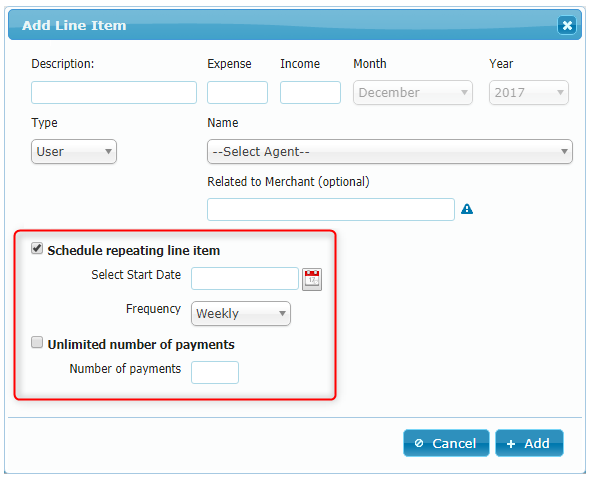 The recurring line items may be viewed on the Recurring Line Items tab:

To view more information on a recurring line item hover your mouse over the question mark button.
To delete a recurring line item, click on the "X" button:

Importing Line Items
You can also import line items into your CRM using an Excel template.
To import multiple line items click on the Line Item Report button and download the Line Item Import Template from the popup which appears.
Then fill in the template with the line item data and after saving your changes, select the template again in the popup window and click Start Import: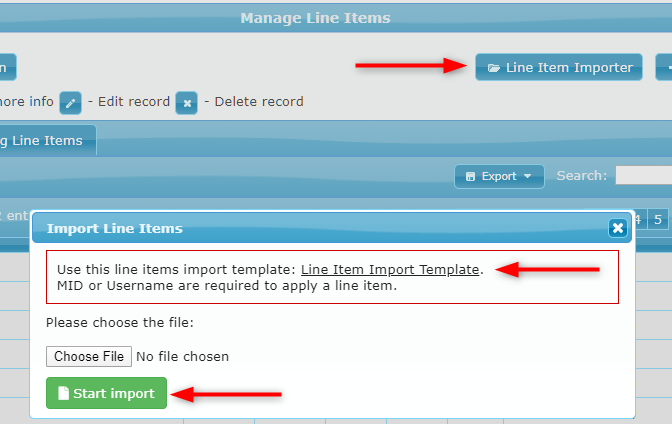 Once the import is completed a confirmation message will be shown:

Here is a screenshot of the Excel template and the available columns to be used with each import:

Using the Line Items Report
On the top of the line items report you can select the number of entries to be shown per page, export your report to an XLS or CSV file using the Export button, and search for specific phrases within the report using the Search box:

To sort the report in ascending or descending order, simply click on any of the column names:

In order to filter the report by a specific column, scroll to the bottom of the report and enter the filter term in the appropriate column filter box. The report table starts filtering automatically as you enter a few characters in the filter box.
For example, in order to show only the items that were created on 01/07/2017, enter "01/07/2017" in the filter box shown at the bottom of the Created column: