To manage unassigned leads, open the Manage Unassigned Leads page via the Leads > Manage Unassigned Leads menu on the top navigation bar.
The page shows a lead filter which you can use to search for unassigned leads in a specific category or leads that match a specific field value.
To run your search select the required filters and click Search. Alternatively, just hit the Search button without selecting any of the filters in order to find all unassigned leads:

The results of your search will appear in the table below the search filter:

To delete an individual lead, click on the Delete button in the table for that lead: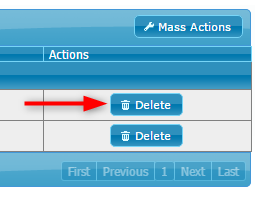 You may also perform mass actions on the selected leads.
To perform the mass lead actions, select the desired leads by clicking the checkbox next to each one and click the Mass Actions button: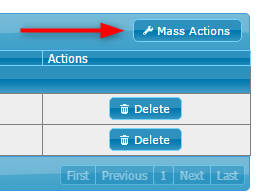 The action dialog will open up as shown in the example below: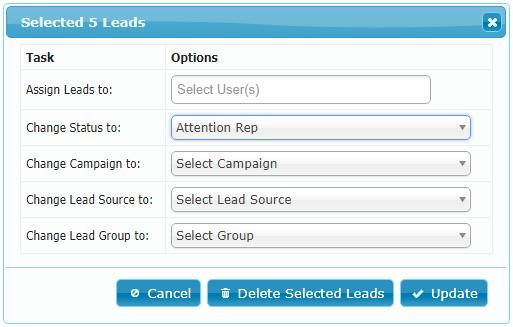 To apply specific actions on the selected leads, select the actions and click Update. To delete the leads, click the Delete Selected Leads button.

The following mass actions are available:
Assign Leads to a user or users.
Change the Status State.
Change the Campaign.
Change the Lead Source.
Change the Group.