Your CRM enables you to set up specific fields on the Lead form as required fields, in order to ensure that your Sales Reps are filling up all of the required information when creating a new Lead.
For a more detailed overview of how to create and manage Lead fields please see our Manage Lead Fields article.
In order to set a field as a required field, follow these steps:
1. Go to Manage > Administration > Leads > Manage Lead Fields.
2. Locate the tab which contains the required field, and click the Add/Remove Fields button.
3. Locate the field you wish to set as required and click Permissions:

4. In the popup which appears select the Required checkboxes for each User Class that will be required to enter information in the current field (e.g. the Sales Rep class). When finished, click Save and the field you select will now be a required field:
When finished, click Save and the field you select will now be a required field: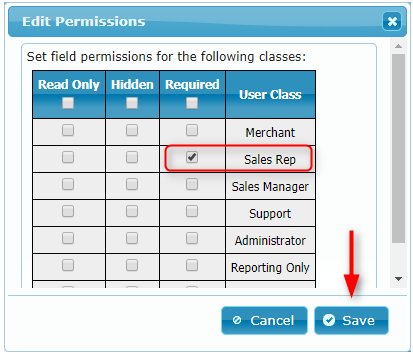 Once your changes have been saved, the required field will be indicated on the Lead with a red asterisk:

If a Sales Rep now tries to save a new Lead without entering the information in the required field, an error message will be shown in the top right corner, asking the user to enter the required information:

The required field(s) on the Lead will also be highlighted in red:

If there were additional required fields on other tabs, then those tabs will also be highlighted in red, indicating that the user needs to fill in additional required fields there:

For Dropdown-type fields, the selected option will be seen as empty if has the word "select" in it, or is blank, or entirely non-alphanumeric, like --. In any of those cases, the field requirement is not satisfied and the user will have to pick another option. This setup allows you to have a default or placeholder option in the dropdown while still having real options that must be picked from.