Here are the instructions for enabling the Paya ACH Gateway in your CRM to make residuals payments.
Client Instructions:
1. Contact Paya (formerly Sage EFT) and request that your account be marked as coming from the IRIS CRM and set to 'FILE' in order to receive a 7-digit Terminal ID.
2. Open your CRM, navigate to Manage > Administration > Integrations > Paya, and click New Gateway:

3. Enter the name of your new gateway and the terminal ID, and click Create: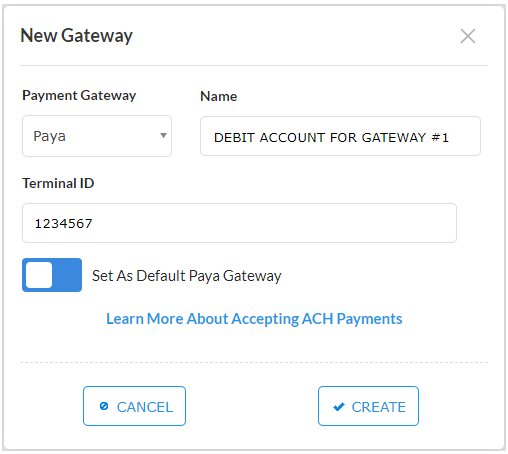 If needed, you can add additional gateways that are used for different purposes: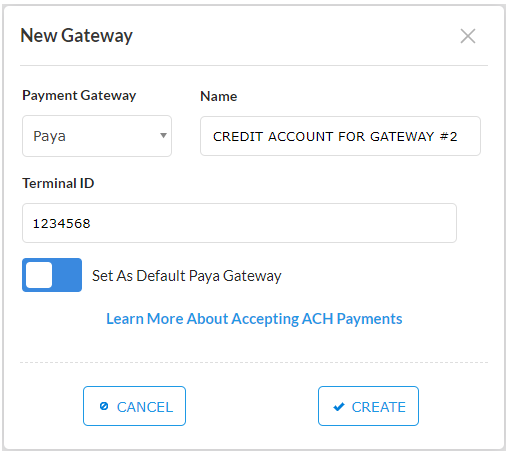 4. Your new gateway is now shown in the gateways report where you can edit or delete it when needed:

5. Confirm your transaction limit with Paya so that large amounts are not declined.
6. Contact CRM Support to ensure the From Email for transactions is set.
7. Create a Paya ACH Profile for a person or business.
8. Once the profile has been added, create one debit and one credit transaction under $1.00 (use different amounts).
9. When your test transactions are confirmed as having gone through on the bank accounts, you can start making real transactions from: