ISOs can connect their Paysafe merchants, both Fiserv and TSYS, to IRIS CRM to receive daily reporting data and monthly statements.
To enable the Paysafe reporting integration for IRIS CRM, Paysafe Partners will need to reach out to Paysafe Partner Support in order to complete an addendum for external reporting tools and enable the data feed.
After Paysafe completes their process, reach out to the IRIS CRM Support Team to configure the processor settings within your IRIS CRM site to begin receiving merchant reporting data.
Once the integration is set up, ISOs will start to receive daily reports for deposits, batches (TSYS only), chargebacks, and retrievals.
Here are a few screenshots showing the different types of information retrieved from Paysafe.
Account Status
The merchant's key account data such as MID, Open Date, Address, Owner Information, Discount Method, and Sponsor Bank is displayed on the Merchant Details page under the Account Status tab: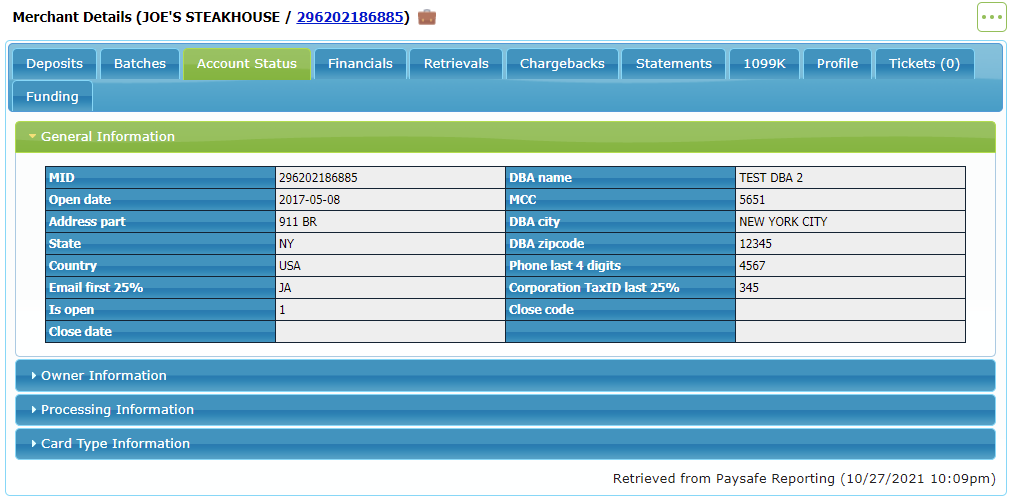 You can find the processor used for the given merchant by expanding the Card Type Information tab and looking at the Clearing Platform field:

Financials
Similar to other IRIS CRM integrations, the Financials tab displays the monthly volume and transactions for the current period as well as the trailing 12 months: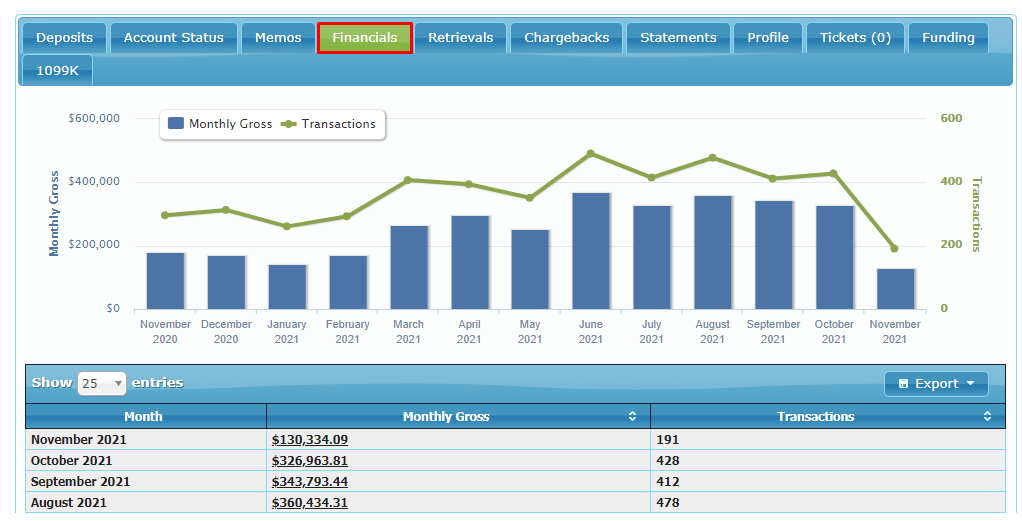 Retrievals
All of a merchant's retrievals are tracked in the Retrievals tab.
In order to see only unique retrieval records, select the Show only initial records checkbox at the top of the table:

Chargebacks
The merchant's chargebacks are tracked in the Chargebacks tab.
In order to see only unique chargebacks, select the Show only initial records checkbox at the top of the table:

Paysafe Backend Selection
The Paysafe boarding integration allows ISOs to select Fiserv or TSYS backend when boarding merchants through the TurboApp.
Once you reach the Corporate Information step in the TurboApp boarding process for a Paysafe application, you may see the new Backend field at the end of the 2nd section titled Location Information.
Displaying the Backend field is determined by the package that was selected when creating the new application.
In this example, you can select TSYS as it's a valid option for the package.