While managing residuals, sometimes it can be difficult to keep track of the many users and percentages assigned.
For this reason, your CRM provides the User Exception Reports that help administrators make sure that users are assigned to merchants correctly and that the residuals payouts are correct.
We recommend checking the User Exception Reports each time you upload a new residuals report and before you make it visible to your users.
To open the User Exception Reports page go to Manage > Administration > Residuals > User Exceptions: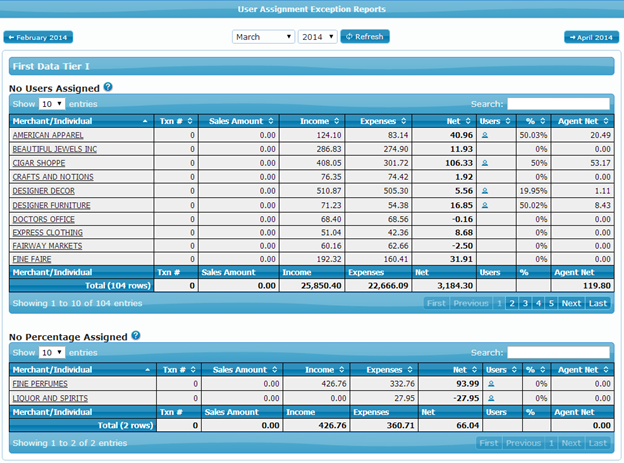 When you open the page, the two reports perform a real-time search and retrieve any exceptions to display for your merchants. Each processor displays separately.
The first report on the page (No Users Assigned) shows merchants with no active Sales Rep or Manager-type user assigned. The merchant may have no users assigned, or those assigned may be Administrator-type or disabled users.
The second report (No Percentage Assigned) shows merchants with active Sales Rep or Manager-type users assigned but at a split of 0%.
For merchants that do have a user assigned, you can see their info by hovering over the icon in the Users column: