The successful delivery of your emails can mean the difference between a successful sale and a failure.
That's why it's important to make sure your domains are properly configured and up to date with all the latest email authentication protocols.
Email Domain Checker is a useful tool that allows you to check the health of your email domains that are used to send emails from CRM, and quickly identify the domains that fail the standard authentication tests so you can take action.
Domain checks are performed automatically in the CRM by looking up SPF, DKIM, and DMARC records for all email addresses that have been used to send emails from CRM in the past.
This includes emails from users, groups, status trigger emails, and emails configured in CRM's site settings.
Once the checks are complete, a report is generated showing the test results in the three check categories. If a domain fails a check, you can fix the problem by updating your SPF, DKIM, and DMARC records, and then running a new check to make sure the problem has been fixed.
More info: Adding SPF, DKIM & DMARC Records To Help Emails Get To Recipients.
Your CRM also provides comprehensive email metrics and deliverability information to help you understand and keep track of your sales email performance.
More info: Email Metrics
We recommend that you also take a look at some of the best practices in our two-part article on outgoing email management:
Part One: Email and Your CRM: Best Practices for Successful Outgoing Email Management
Part Two: Boosting Deliverability with Proper Authentication and Configuration
Using the Email Domain Checker
To open the Email Domain Checker navigate to Manage > Administration > Email & SMS > Email Domain Checker.
The Email Domain Checker page shows a report with email addresses that have been checked in the past.
The records that failed the check are shown with a red X in the report:

You can use the View Details button to see more information on why an email address failed its check: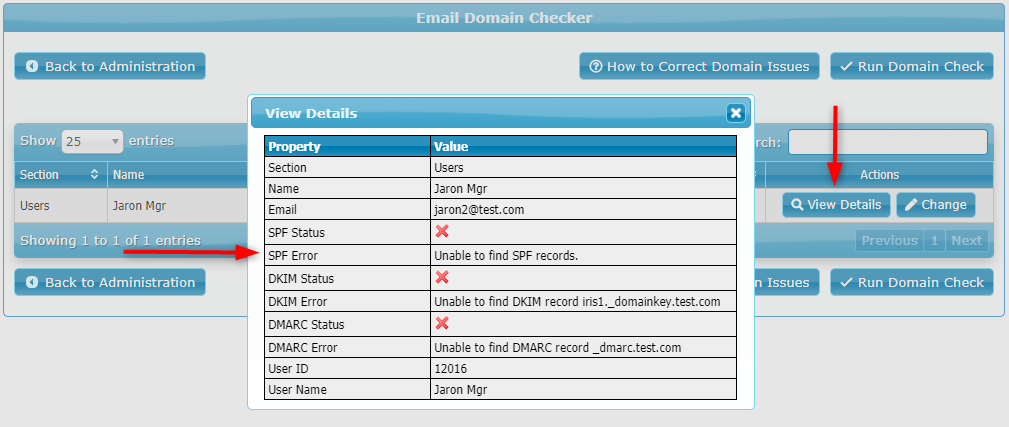 Use the Change button to open the settings page where the email address was originally set (eg. user settings page, group settings page, status trigger page, etc):

To run a new check, click on the Run Domain Check button and click OK to start the check:

A confirmation message will appear to let you know that the new domain check is in progress:

Once the check is completed a confirmation message will be shown and you can click on the View Results button to open the domain check report: