To enable the visitor activity tracking feature, you will need to add your website's domain in the CRM, and then copy the automatically generated tracking code inside the <head> tag of your website.
You may enable visitor tracking for one or more websites. Once a tracking code is installed, your sales reps will receive automatic alerts when a visitor opens their email or clicks on a link in the email.
For more information please see our article on Site Visitor Tracking.
To enable visitor tracking for a website, follow the steps below:
1. Go to Manage > Administration > Email > Visitor Tracking Sites, enter your website's domain in the provided field, and click Add Site: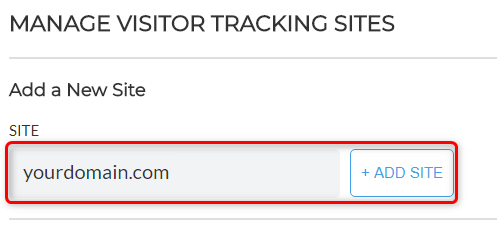 2. Copy the automatically generated tracking code and paste it into the <head> tag of your website. You can use the Tag icon to expand or hide the tracking code:

3. The other two icons in the Actions section allow you to verify that the tracking code has been installed correctly, or to delete the domain once you no longer wish to track it: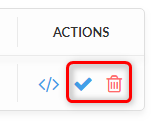 When you click on the blue check icon, the CRM will connect to your website and if the tracking code is found, you will see a confirmation message:

Otherwise, an error message will be displayed, and you will need to re-check if the code has been copied to your website correctly and then try again.
4. After you have installed the tracking code, you can proceed to update your email templates.
Open an email template, click on the More Options link, and select the Track Visitors checkbox: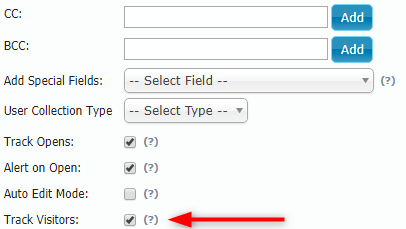 When a user launches a new email with the current template, the Track Visitors checkbox will now be automatically selected (but if needed the user may still uncheck the option manually).
Next, you can add one or more links to your template: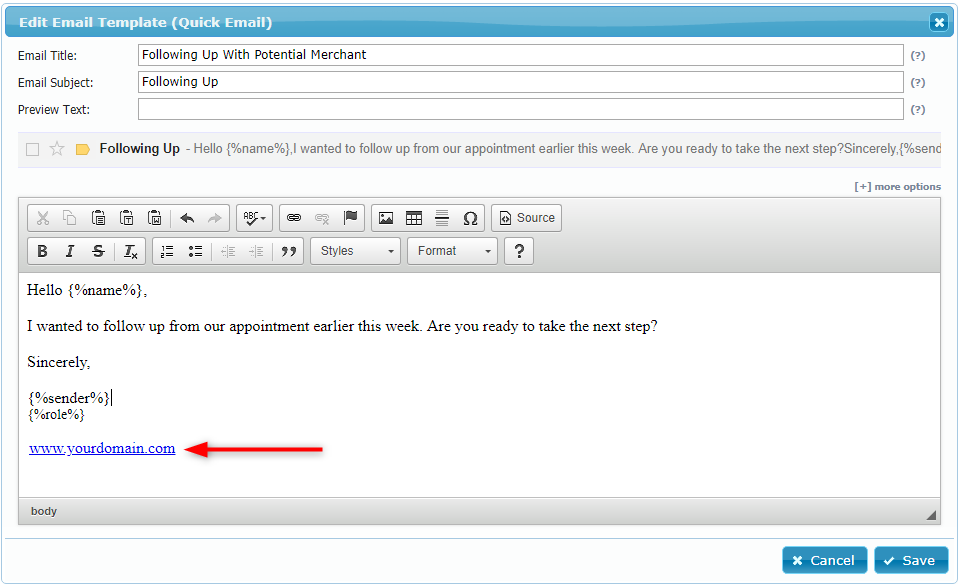 You may insert links to any page within the domain that you added in your CRM, and all such links will be automatically tracked.
When you're finished, save your template changes and with that, the visitor tracking feature has been enabled.