Your CRM provides you with the ability to map your Lead fields to the TurboApp fields, and in that way automate the transfer of merchant information during merchant boarding.
To start mapping your fields go to Manage > Administration > TurboApp > Field Mappings.
On the mapping page, select the appropriate processor after which the mapping page will automatically display all of the TurboApp fields which are available for that processor: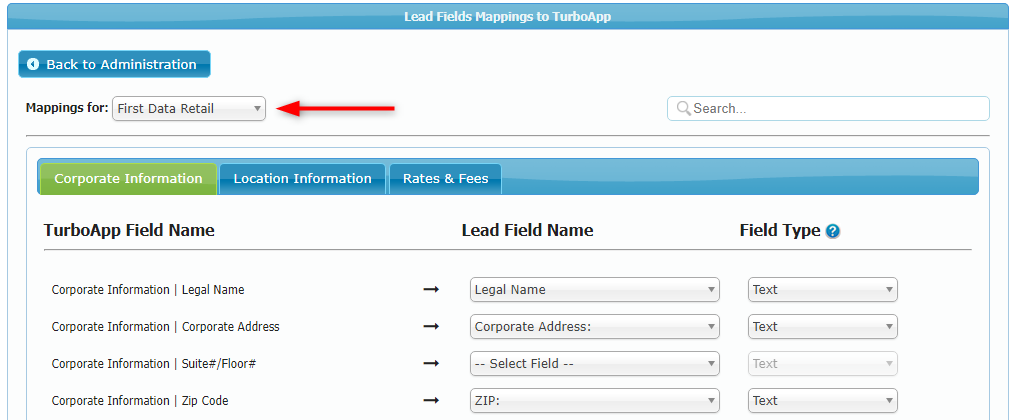 To begin your mapping, simply select the corresponding Lead field (in the middle column) for each TurboApp field (in the column on the left).
After you've selected the field to be mapped, you will also need to select the field's type (for example text, phone, date, etc).
As you select fields to be mapped your changes will be automatically saved. If you need to un-map a specific field, simply select the first entry in the Lead dropdown ("-- Select Field -- ").
In order to locate a field to be mapped faster, simply look for the field in the provided search box, and the page will automatically refresh to display all of the matching results:

In order to ensure that your mappings have been created correctly, it is recommended to perform a test boarding creating a temporary test lead and populating the lead the fields with sample values.
When finished, save the lead and then initiate the boarding process by clicking the Board Merchant button on the lead:

Finally, compare the information shown in the TurboApp pages with the original lead values.
Important: Since you will be using a temporary lead for testing purposes do not submit the TurboApp toward the last step of the boarding process.