The Agreement Express (AEX) integration enables you to run and view your ScanX Scorecards in IRIS CRM without logging in to AEX.

Here's an overview of the steps:
Contact IRIS Support to provide your AEX portal address and site ID.
Generate an API Key in your IRIS user account. Add this to AEX portal.
In AEX portal, get your API key and add that to your IRIS user account.
In IRIS, enable the Underwriting permissions in the User Classes page.

Detailed steps:
1. Log in to your AEX site and click the Personal Details option under the user menu in the top-right corner:

2. On the Personal Details page, click the Generate IRIS API TOKEN button and copy your IRIS API Token:
3. Go to your IRIS CRM site and open your user settings page by clicking the Settings link under your user menu in the top-right corner:


4. Next, open the Connected Accounts tab:
5. Now click the Connect Agreement Express Account button, enter the email you use for your AEX account, paste the IRIS API token, and click Save:
6. Your AEX account is now connected to your IRIS CRM account. This will allow you to see AEX scorecards that have been run from IRIS:

My Underwriting Page
After you successfully connect your AEX and IRIS CRM accounts, you will see the My Underwriting page appear in the main menu: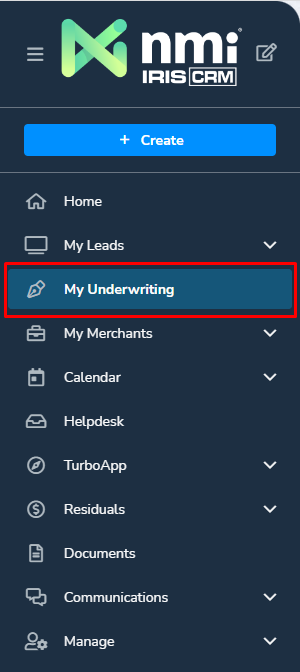 The page lists all of your ScanX scorecards:

Note: If you don't see the My Underwriting page in the CRM menu, please contact your administrator to update your Access Underwriting permission.
ScanX Scorecards on Leads
Once your AEX integration is enabled, you'll also have access to ScanX Scorecards on your leads.
ScanX Scorecards are listed on a special lead tab with the AEX logo: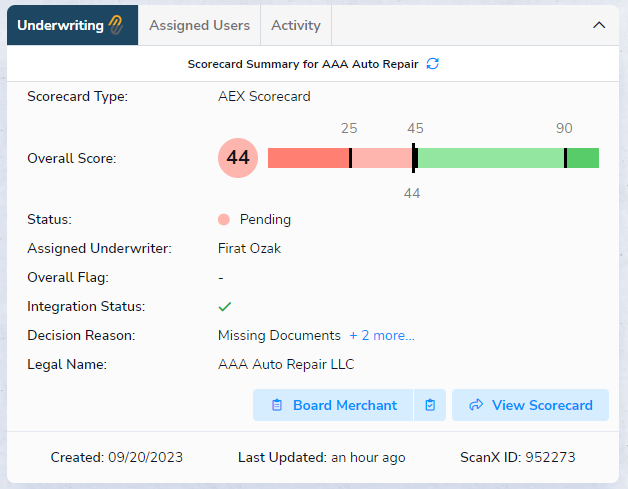 You can review your scorecard in IRIS or click the View Scorecard button to access the scorecard on your AEX site.


Any action you take on your Agreement Express site will automatically update the data on your IRIS CRM site too.