Merchant accounts are linked to lead records so that an ISO can store additional information that is helpful in servicing an account.
Leads are automatically linked to merchant records in one of the two following ways:
When a lead is boarded through TurboApp, the approved merchant account is automatically linked to the originating lead.
When a merchant is created in your CRM, if an existing lead does not match first by the MID, then by the first 25 characters of the DBA name, a corresponding lead record is automatically created (this creation is optional, and may be enabled/disabled by contacting the support team). The new lead will have the DBA and MID filled in and be linked to the merchant.
Sometimes it's necessary to link a lead to a merchant record manually, either because the account wasn't boarded through the TurboApp, or the lead didn't have the information necessary to automatically link to the merchant account.
Linking a lead to a merchant record is easy, and can be done by any user with access to the lead and the merchant account.
Here's how it's done:
1. Navigate to the desired lead.
2. Click the Link button in the Actions widget:

3. The Link dialog will appear which gives the option to search by either account number or DBA. As you start typing the account number or the DBA name, the dialog will automatically display the matching results which you can select:

4. Choose the desired merchant and click the Link button in the dialog:

Once the merchant is linked to the lead, the merchant account will be listed in the Associated Merchant and Lead Records widget:

Clicking the merchant name in the widget will open the merchant record.
Clicking the gear icon will open the Manage Merchant page, which enables administrators to link users to the merchant.
Clicking the red Delete icon will remove the linked relationship.
Note: If the merchant account is not found via the account # or the DBA, then the Link to Existing Account popup will automatically switch to the Create New Account popup, which allows you to both create a new account and link the lead to it: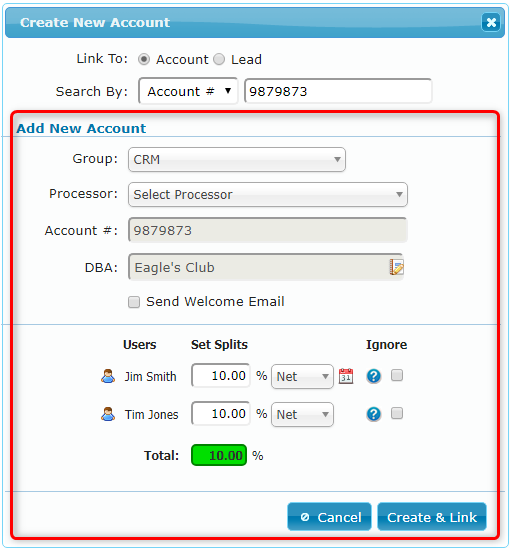 After a Merchant is Linked to a Lead

When a lead is linked to a merchant, the lead's tabs then show in the merchant's Profile for easy viewing and editing. The lead's status will also show there. As the lead has the Notes and Attachments tabs, those become part of the merchant view when it's linked to the lead, meaning that everything added during the sales process is retained and simply accessed through the merchant, and any new notes and files are added in the same place.

Helpdesk tickets created for the lead or merchant also show in the other's page, ensuring that nothing is missed when looking for the service history of an account.