Once your NMI integration is enabled, you can begin boarding merchants in two easy steps:
Step 1: Create a new ticket and review/edit merchant details
Step 2: Review/edit processing info and create the new account
Step 1: Create a New Ticket and Review/Edit Merchant Details
To create a new NMI ticket open your merchant and click Add New Ticket under the Tickets tab:

Select the "NMI - Create Gateway Account" ticket type and hit the Create Ticket button: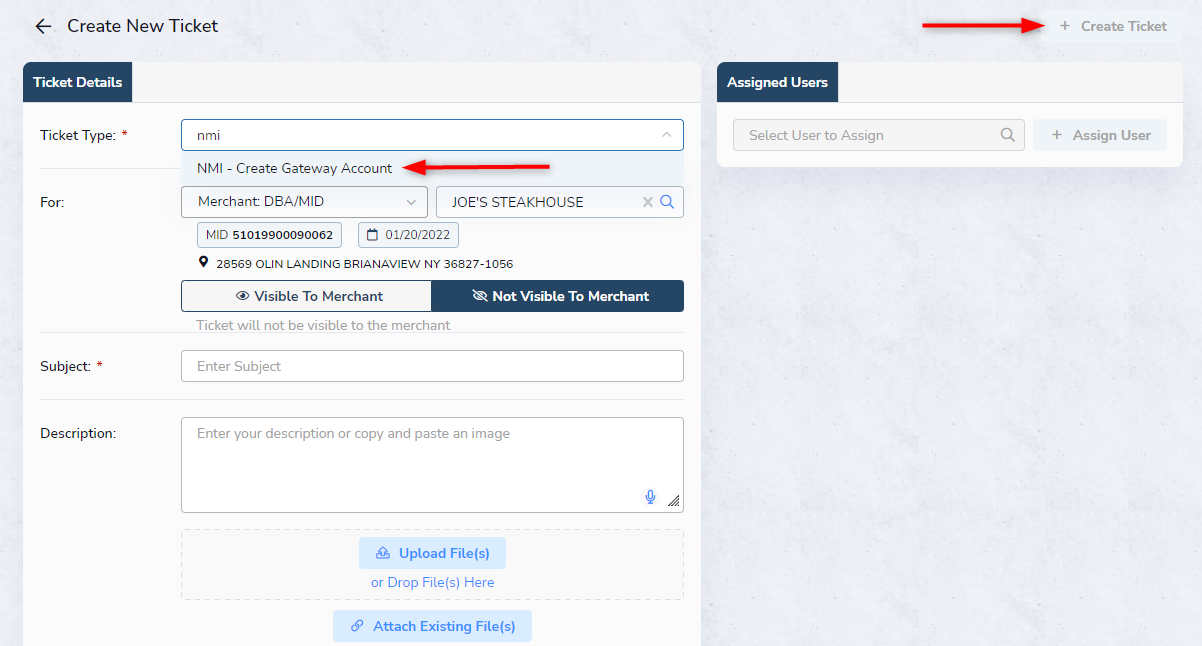 A new ticket is now created and automatically populated with the merchant demographic information that is stored under the Account Status tab of the Merchant Details page.
Verify (or edit) the information and and click Next to move on to step two: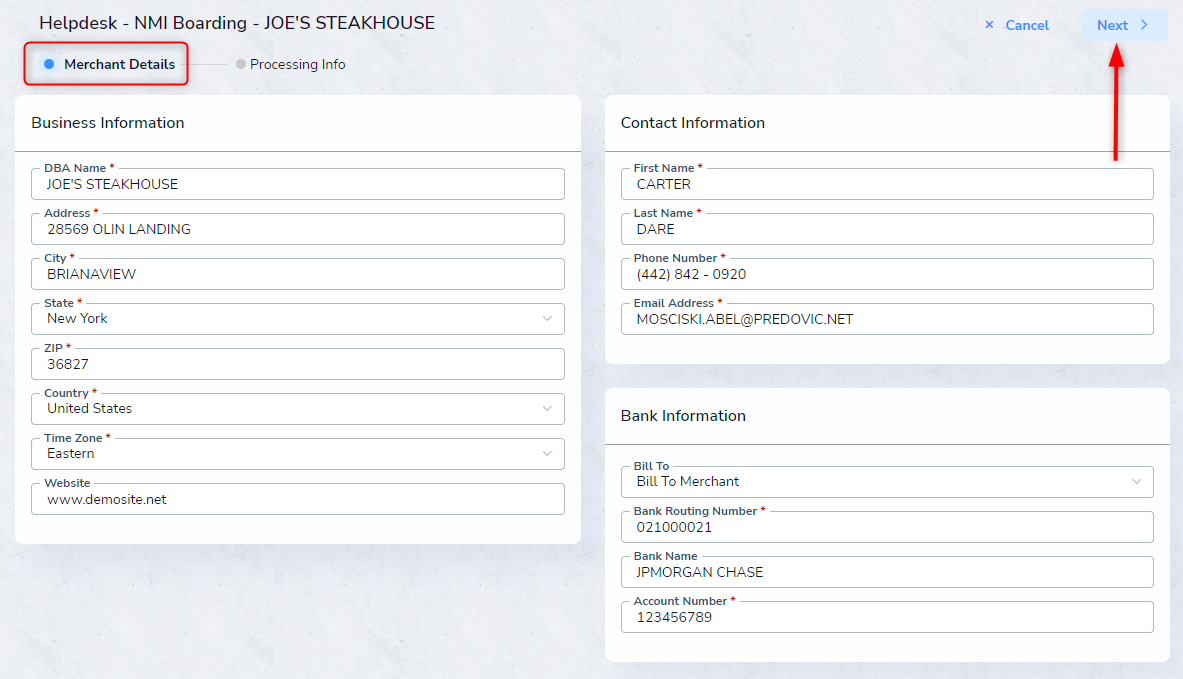 Note: You can also create a new NMI Gateway ticket from the Helpdesk page by selecting the "NMI - Create Gateway Account" ticket type and searching for the merchant in the search box:

Step 2: Review/Edit Processing Info and Create the New Account
Within the Processing Info tab, you are able to set the Transaction Thresholds, Fees & Services, and enter your VAR Sheet information into the Merchant Processing Information section.
Getting the information correctly in this step is crucial to a swift merchant boarding process.
Once you've reviewed or updated the merchant's processing information, click Create and the merchant will be instantly boarded.
Also an NMI gateway ID will be issued, and the merchant will receive an activation email within a few seconds: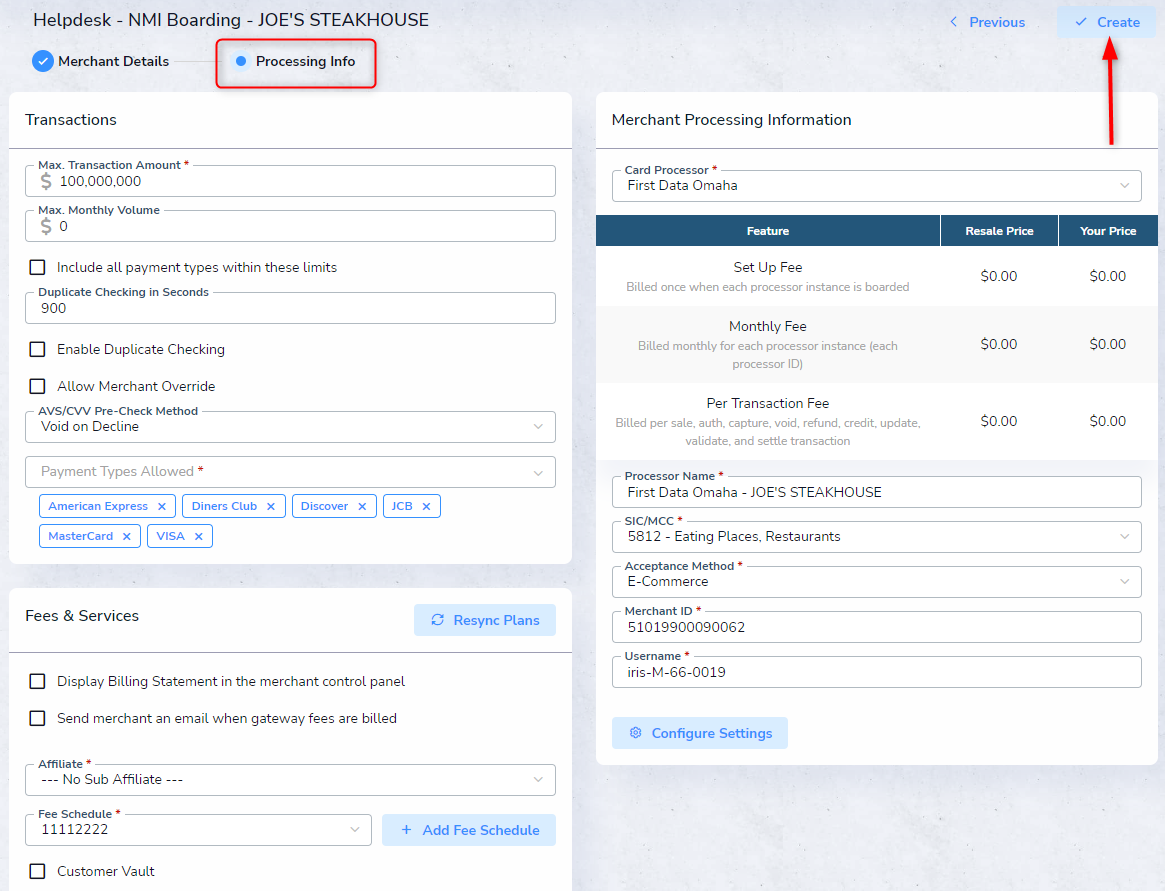 Below is a screenshot of the confirmation message that appears after a successful account activation:

As a reference, here are the descriptions of the three sections on the Processing Info tab:
Transactions: In this section you can add settings that will help prevent fraud, including a max transaction amount, max monthly transaction volume, duplicate checking, and the payment types that the merchant will accept.
Fees & Services: In this section you can choose the sub-affiliate plan and fee schedule which will update the fees accordingly in the Merchant Processing section. You can also select Value Added Services such as Customer Vault, iSpyFraud, and others.
Merchant Processing Information: In this section you can select the processor and enter the SIC/MCC, business description, transaction acceptance method, and your VAR Sheet information provided by the processing network.