To create a new landing page, open the Web Forms page from the administration menu (Web Forms > Manage Web Forms), and click on the New Web Form button in the appropriate form group (e.g. Demo Forms):

A popup window appears where you can select the form's options.
Enter your form name, select the Landing Page Web Form type, and click Add: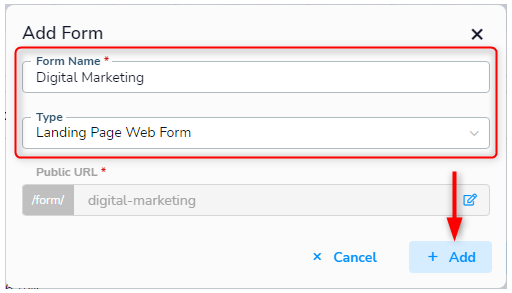 Note: If needed you can change the public URL slug by clicking on the pencil icon in the Public URL field.
Once the landing page is saved you can use the action shortcuts to manage and edit the page:

Click on the Edit button to begin designing your landing page. Below is a screenshot of the landing page builder:

You can now drop the desired widgets from the Form Widgets sidebar into the landing page design area.
After you finish editing the page save your changes, and you can then preview the landing page using the Open shortcut on the web forms page: